Award recognises Market Leading Technology and Partner Commitment
New York and London – May 25, 2011- Search analytics leader, Searchmetrics, has been named 'Best Technology Partner, EMEA' by Adobe as part of the Adobe Omniture EMEA Partner Awards 2011. The company received the award for demonstrating the best technology in its market and for its commitment to becoming the first international SEO provider to the Adobe Genesis Partner Program, including integrating organic search analytics data from its Searchmetrics Suite software into Adobe SearchCenter+ powered by Omniture®.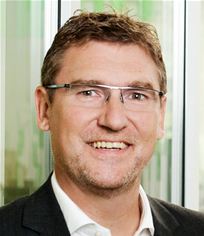 Horst Joepen, CEO of Searchmetrics
Commenting on the award, Mark Dillon, Vice President, Global Channel Sales, Omniture Business Unit, Adobe, said: "We've been immensely impressed by Searchmetrics' technology, as well as their support and drive in working with us to integrate the data from their software with Adobe SearchCenter+ and helping us to give customers valuable new organic search insights."
Horst Joepen, CEO of Searchmetrics, said: "Of course it's a real pleasure to be recognised in this way by a valuable business partner. We see it as an important milestone in our successful relationship with Adobe which is very focused on ensuring both companies and ultimately our customers continue to benefit."
The award was presented to Searchmetrics at the Adobe Omniture Summit EMEA 2011, which was held in London on 19-20 May.

About Searchmetrics
Searchmetrics is the global expert in search analytics software, empowering marketers to increase visibility and market share on the world's leading search engines. We create value by providing the best quality data. Searchmetrics' robust SEO tool includes access to one of the largest, freshest online databases of 25 million keywords/55 million domains and 90 search engine/country combinations. Clients and partners worldwide rely on Searchmetrics to maximise return from SEO investments with actionable insights that help better manage, improve and scale SEO campaigns.
Headquartered in Berlin, with subsidiaries and offices in New York, London and Paris, the company delivers real web intelligence to a growing international customer base. You can connect to Searchmetrics on Twitter@Searchmetrics or on Facebook at www.facebook.com/Searchmetrics. For more information, please visit: www.searchmetrics.com.
UK Media Contact:
Uday Radia
CloudNine PR
+44 (0)7490 584161
uradia@cloudninepr.com