Searchmetrics Suite is a winner at UK Search Awards
London, 6 November, 2012 - The Searchmetrics Suite from search and social analytics software company, Searchmetrics, has won the Best SEO Software award in the UK Search Awards 2012.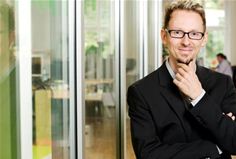 Marcus Tober
The Searchmetrics Suite gives SEOs the data and tools to plan, analyse, measure and enhance their search and social campaigns. The judges praised this software for being the best overall SEO tool in the category.
Marcus Tober from Searchmetrics said: "We tried really hard to create something extra special with the new Suite - to give SEOs the most useful, up-to-date data in the most accessible and usable way. So it's fantastic to get this official industry recognition from the UK Search Awards. We feel the Searchmetrics Suite is the beginning of a whole new era of SEO tools – and we have so many more ideas in planning and development. So stay tuned."
About Searchmetrics
Searchmetrics is the global expert in search and social analytics software, empowering marketers to increase visibility and market share on the world's leading search engines. We create value by providing the best quality data on a global scale. Clients and partners worldwide rely on Searchmetrics to maximize return from search investments with actionable insights that help better manage, improve and scale search marketing campaigns
Searchmetrics' robust search marketing tool, Searchmetrics Suite, is supported by a unique server infrastructure that offers monitoring of over 170 search engines in over 70 countries worldwide. With the Searchmetrics Essentials product line, Searchmetrics offers a comprehensive analytics solution at a lower price point for SEO, SEM (PPC), Universal Search, backlinks and social networks with high-quality data and services. In addition, Searchmetrics also offers high-end SEO consulting services in Germany, Austria and Switzerland, ensuring that our clients' web content can be found in the top results of every leading search engine.
Headquartered in Berlin, with subsidiaries and offices in New York, London and Paris, the company delivers real web intelligence to a growing international customer base. In 2011 Searchmetrics was named as Best Technology Partner, EMEA by Adobe and is listed in the 2012 Always-On Media 100 companies.

You can follow Searchmetrics on Twitter @Searchmetrics or on Facebook at www.facebook.com/Searchmetrics.
For more information, please visit: http://www.searchmetrics.com/.
UK Media Contact:
Uday Radia
CloudNine PR agency
+44 (0)7490 584161
uradia@cloudninepr.com