In just 4 weeks' time, SMi's 21st Annual Superbugs & Superdrugs Conference will kick off in London, setting out to provide an international audience with key updates on the latest developments in combating antibiotic resistance, including the processes and strategies pharmaceuticals use to develop novel therapeutics that utilise alternative mechanisms to treat multi-drug resistant infections.
In the run up to the conference, SMi caught up with this year's co-chair Lloyd Czaplewski, Director at Chemical Biology Ventures, to learn more about his role and valuable perspectives on the state of the global threat of antibiotic resistance.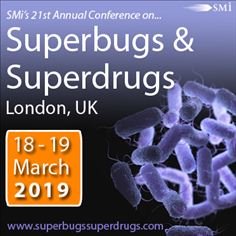 Superbugs & Superdrugs Conference
Interview Snapshot:
Q: What do you do in your day to day role and what perspective do you bring to the conference?
A: I work as CSO at Persica Pharmaceuticals Ltd, a clinical stage company, working on a novel treatment for Chronic Low Back Pain caused by bacterial infection of the spinal disc. In addition, I consult through Chemical Biology Ventures Ltd and work with Universities and funders e.g. Novo Repair Impact Fund.
Q: What role do you believe finding higher quality antifungal hits plays in leading the fight against AMR?
A: Better target validation and more tractable hits are both important, but the problem is multi-factorial. Look up a 20-set Venn diagram and consider that the candidate is represented by one sector. That's the type of problem we are trying to solve.
The full interview is available to download from the event website at http://www.superbugssuperdrugs.com/vueliopr
The two-day conference will host 19+ senior industry experts giving detailed presentations on antimicrobial research development, novel antifungal agents, funding and regulations updates, as well as two half-day, post-conference interactive workshops on: "Understanding the complexity of the microbiome and how to navigate it" and "Understanding PK/PD in antimicrobial research".
Featured Expert-Led Presentations:
"The drugs don't work: WHO's role in advancing new antibiotics", presented by Peter Bayer, Senior Advisor, World Health Organization (WHO)
"Revised guidance on antibacterial drug clinical development in the EU", presented by Mair Powell, Senior Medical Officer, HPRA
"Wellcome Trust: strategies focussing on AMR", presented by Timothy Jinks, Head, Drug-Resistant Infections Programme, Wellcome Trust
"Novel immunotherapeutics to target Gram-negative bacterial infections", presented by Chris Pickford, Head of Drug Discovery, Centauri Therapeutics
The newly updated conference brochure is available to download on the event website, which contains the full two-day agenda and speaker line-up, at: http://www.superbugssuperdrugs.com/vueliopr where interested parties can also register.
Superbugs & Superdrugs Conference
18th-19th March 2019
London, UK
---- END ----
About SMi Group: Established since 1993, the SMi Group is a global event-production company that specializes in Business-to-Business Conferences, Workshops, Masterclasses and online Communities. We create and deliver events in the Defence, Security, Energy, Utilities, Finance and Pharmaceutical industries. We pride ourselves on having access to the world's most forward-thinking opinion leaders and visionaries, allowing us to bring our communities together to Learn, Engage, Share and Network. More information can be found at http://www.smi-online.co.uk