- Databarracks develops free business continuity testing tool for SMEs –
In 2015, disaster recovery (DR) specialists Databarracks revealed that 73 per cent of small UK businesses had not tested their DR plans in the last 12 months. To raise standards within the industry, and level the playing field between SMEs and big enterprises, Databarracks has created a free DR tabletop testing simulator that allows SMEs to test their organisation's preparedness by running through various recovery scenarios.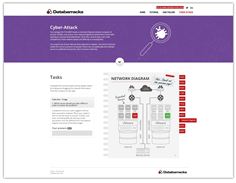 Cyber-Attack
Peter Groucutt, managing director at Databarracks, explains: "To discover last year that such a high percentage of small organisations in the UK hadn't tested their DR plans was worrying, but it really isn't that surprising considering the huge range of responsibilities an SME IT manager has. Large enterprises have the resources and capacity for a dedicated business continuity team, whereas most SMEs won't have the same time or the budget available to allocate to business continuity planning or testing.
"SMEs should have the same access to the planning tools needed to build a robust BC/DR plan, regardless of budget. It's something we've championed for a long time – SMEs shouldn't be at a disadvantage due to budgetary or time constraints, and we're actively trying to level that playing field. Tabletop testing is an essential part of the DR plan testing process, and small and medium businesses should be able to perform testing like this just as effectively as large businesses. That's why we've added a tabletop test simulator to our suite of free disaster recovery tools for SMEs.
"The concept of tabletop testing is well known and used by larger organisations but it is not something we often see in smaller businesses. Businesses should write their DR plan with a broad scope to handle the various different impacts that a continuity event might have on their organisation, such as IT downtime or inability to access the office. By doing this, it means that the plan itself will be comprehensive and cover every eventuality rather than trying to address a large number of specific scenarios.
"You have no idea whether your DR plan will serve its purpose in a disaster unless you test it, and in multiple scenarios. That's why a tabletop test is so useful – you can throw very specific scenarios at the plan and see how you will cope. It's a practical way to work through different scenarios without the time commitment of a full test and it helps to identify any gaps you may have in your plan, as well as helping to keep all contact information up to date.
"Finding the time for testing is one of the biggest reasons we hear from organisations who haven't performed a DR test in the last 12 months. Whilst the risks associated with a tabletop test are low – you're not physically failing over any servers – it can take a substantial amount of time when done thoroughly. We want our simulator to be a solid starting point for SMEs looking to tighten their own plans and follow DR best practice."
Groucutt concludes: "Our simulator is a great introduction to tabletop testing. You act as three different businesses, responding to three different disaster scenarios using an existing recovery runbook. When you have completed them you will have a great foundation on which to base your own tabletop test, to use on your own disaster recovery plans."
Find out more about the DR tabletop testing simulator here: https://tools.databarracks.com/dr-tabletop-simulation/index.html
- Ends -
About Databarracks:
Databarracks provides ultra-secure, award winning Disaster Recovery, Backup and Infrastructure services from UK-based, ex-military data centres.
Databarracks is certified by the Cloud Industry Forum, ISO 27001 certified for Information Security and has been named as a "Niche Player" in Gartner's 2015 Magic Quadrant for DRaaS. For more information, please see: http://www.databarracks.com
Contact:
Nick Bird/Paul Moore
Spreckley
Tel: +44 (0) 207 388 9988
Email: databarrackspr@spreckley.co.uk