BUSINESS leaders on the frontline of the solar energy revolution will meet at a major conference later this year to plot the UK's future in the rapidly growing market.
The Solar Flair 10 conference will see key players in the photovoltaic sector gather at Lumley Castle, County Durham, to discuss the future of the emerging industry and the many opportunities that lie ahead.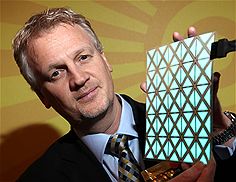 Solar Flair 2010
As the government steps up its drive to channel more solar-generated power into the national grid, delegates at the event will explore how businesses and consumers can reap the rewards of going solar.
Earlier this year the Government introduced feed-in tariffs for solar photovoltaic systems to help generate investment in the UK renewable energy market and create a more sustainable future for the country's national grid.
Speakers at event, which include representatives of the Centre for Renewable Energy at Durham University and the Electronics, Sensors and Photonics Knowledge Transfer Network (ESP-KTN), will look at how government incentives will fuel ongoing growth in the sector while also examining solar power's future relevance to the construction, space technology and power generation markets.
The conference has been organised by County Durham Development Company (CDDC) on behalf of the event's financial backer, ESP-KTN.
CDDC's managing director Stewart Watkins said: "The conference is particularly timely, following as it does the implementation by the Government earlier this year of a feed-in tariff for solar energy – offering financial incentives for embracing solar energy.
"This new tariff makes the installation of solar panels affordable not simply for businesses but also for residential customers who will be able to sell unused units of energy back to the grid. The feed-in tariff has the potential to stimulate the photovoltaic sector and generate job opportunities in the North East and further afield."
Alongside Mr Watkins, other speakers at the event include representatives from the UK's national flagship printable electronics facility PETEC, based at NETPark, County Durham, the Square Kilometre Array Telescope Programme, Romag plc, Evince Technologies, Devereux Architects and NASA, among others. The dinner speaker is BAFTA and Emmy nominated journalist, producer and presenter Michael Mosley responsible for, among others, The Story of Science, Walking with Dinosaurs, and Inventions that Changed the World.
Solar Flair 10 will be held at Lumley Castle, County Durham on 8th and 9th of December. For more information please visit www.solarflair10.com.
ENDS
Notes for editors:
NETPark Net is a virtual innovation network for companies operating or planning to operate within the Science, Engineering and Technology sectors.
It provides companies with direct access to online collaboration and business development tools as well as business support services including access to expertise, market intelligence, innovation management, tenders and opportunities as well as one-to-one clinics, workshops and events, and a virtual office facility. NETPark Net allows science and technology companies to access the innovation support offered by the North East Technology Park (NETPark) in Sedgefield, County Durham.
The project is part financed by the European Union's ERDF Competitiveness programme 2007-13, securing £0.22m of ERDF investment through the Regional Development Agency One North East. The ERDF programme is bringing over £250m into the North East to support innovation, enterprise and business support across the region. This project has received funding from Durham County Council through County Durham Development Company.
NETPark – the North East Technology Park - is located in Sedgefield, County Durham. It is North East England's premier science, engineering and technology park for the commercialisation of cutting edge R&D, where companies lead the way in developing world-class technologies, creating new products and new markets. www.northeasttechnologypark.com
ERDF
* The ERDF Competitiveness Programme 2007-13 for North East England is managed by One North East on behalf of the European Commission, national government and regional partners.
* ERDF 2007-13 is focusing on:
Innovation – promoting science, technology and innovation in businesses and institutions across the region.
Enterprise and business support – encouraging more people to start up in business, particularly those in disadvantaged areas, and helping established businesses develop, grow and innovate.
* More than £300m ERDF investment is available for the region from 2007-13. ERDF investment is limited to 50% of total eligible cost and must be matched by other public and private sources. For every pound of ERDF investment, regional partners lever in another pound for the key priorities of innovation, enterprise and business support.
* The programme is underpinned by the three important cross cutting themes of environmental sustainability, equality of opportunity and sustainable communities.
County Durham Development Company is the innovation and strategic investment arm of Durham County Council, responsible for maximising the positive economic impact of the knowledge-driven economy in County Durham for the benefit of the people and businesses of County Durham. CDDC is responsible for managing and promoting NETPark. www.wherebusinessgrows.com