If you are in a line in the coffee shop or during the break of a national game or in a busy club you want everything to go fast, especially transactions. Slow transactions means less revenue for the venue and less satisfied customers. Microsoft, HP and Shopbox are now taking a big step towards killing long lines.
Copenhagen, Denmark – April 12, 2016. Danish startup Shopbox has developed what probably is the world's fastest cloud based checkout counter, a Point-of-Sale (POS) system that makes it possible to provide faster transactions in the hospitality industry. Microsoft and partners have invested close to 300.000 EURO in having the Shopbox system developed for Windows 10, so it can be run on tablets with Microsoft's operating system.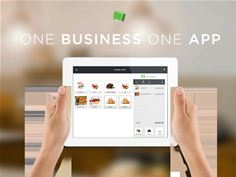 Shopbox screen
Shopbox has optimized all parts of the payment process including the credit card terminal and hereby created a very fast checkout system. This will get a great impact, especially for coffee shops, clubs and sports arenas, where transaction speed is fundamental for maximizing turnover and getting happier customers. This is the market Shopbox is targeting with its latest offering.
"We have improved the speed of checkout with at least 25% compared to other very fast solutions out there. This is huge when you have to cater a ton of people in no time. Our first customer is a large and well-known venue. They wanted to have faster transactions and we made that happen. And on top of that the other benefits of a cloud-based POS. For a startup it feels very good to be able to outperform the old guys", says Christian Zigler, founder & CEO of Shopbox.
Until now Shopbox has been available on iOS, but the cooperation with Microsoft and HP offers a big boost in Shopbox' sales. The two giants see Shopbox as a "killer-app" that can sell Windows-based tablets for a variation of customers where speed and reliability is of essence.
"Shopbox has the right software, HP the right hardware. That's a partnership that we believe in", says Stefan Jeleby, CEO of HP Sweden.
Microsoft is aiming at positioning themselves on the tablet market, and there is an opportunity for them to do so through a partnership with Shopbox and a well-established hardware company such as HP.
"We see an enormous strength in this cooperation. By combining Shopbox' innovation with the trustworthy Microsoft platform and HP's hardware and support, we can offer a complete solution to any retailer", says Klas Hammar, responsible for Windows 10 at Microsoft Sweden.
Sweden is the initial country of launch, and the first large scale customer has bought the solution and has been testing it since early January.
For more information, contact:
Christian Zigler, Founder & CEO, Shopbox, +45 26 17 04 45, cz@shopbox.com
Andreas Wingren, Microsoft Corporate Communication, +46 73 647 27 98, v-anwing@microsoft.com
Jenny Gustavsson, Business Manager Mobility, HP, +46 768 59 68 39, jenny.gustavsson@hp.com
Background facts:
In 2015, Wired Magazine nominated Shopbox as one of Europe's most innovative POS-solutions for restaurants
Shopbox received 15 million Danish Kroner in venture capital in February 2016 from Swedish Zenith Ventures
Shopbox has previously received 15,3 million Danish Kroner from other investors, so the total amount invested in Shopbox is now 30,3 million Kroner
Today, Shopbox is used by more than 400 stores and restaurant, and this number is constantly growing
Shopbox was founded in 2012 by serial entrepreneur Christian Zigler
About Shopbox:
Shopbox is an all-in-one counter app that is especially designed for quick service stores and restaurants. Shopbox wants to gather everything that the business owner needs in just one app. Instead of using an isolated counter system, the store or restaurant will with Shopbox also get webshop, inventory management, employee system, customer loyalty club and online table booking. Read more at www.shopbox.com.
The greater vision is to give owners a possibility to make better decisions in their day-to-day business operations and provide better customer service: reduce food waste, save time, provide goal oriented and individual customer service and have the optimal amount of employees at work every single day.
Shopbox does this by integrating with all the apps that a restaurant and store needs to optimize the business - and at the same time gather data to provide a basis for the owners to make better decisions in the future.
Restaurants and stores can now compete with the big guys - Shopbox is Software-as-a-Service, which means that owners for a small monthly fee can use the software without limitations. And Shopbox is under continuous development, giving owners access to new functions as soon as they are launched. An extra counter is simply a tablet with a payment terminal and printer away.