Scientific research reveals that 50% of shoppers will choose a shampoo bottle featuring a 3D label
Tobii Technology, the global market leader in eye tracking and Rolling Optics, the Swedish innovative 3D label manufacturer have just completed a new study into shampoo packaging. The study tested the theory that using a Rolling Optics 3D label on packaging is more attractive to the consumer. Tobii Glasses, the latest advancement in eye tracking technology, were used in the study to consistently monitor the participants' gaze to identify where they were looking and for how long.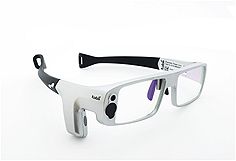 Tobii Glasses
The study took place in a hair care store in Stockholm, Sweden, using three different types of shampoo bottles. One shelf was prepared containing Grazette of Sweden's XL Volume Shampoo featuring an old label, the same brand featuring a new 3D label from Rolling Optics and a competing volumising shampoo brand without a 3D label. Participants were asked to look at the shelf and decide which shampoo they would like to purchase, whilst wearing the Tobii glasses. They were also asked several follow up questions after they had completed the task including which brand they would purchase.
"This was an important subject for Rolling Optics to research as the results showed whether or not the label on a bottle really makes an impact on consumer purchasing behaviour. 3D labels must be studied in a real life environment, and the Tobii Glasses made it possible to study the power of the label", explains Tom Englund, executive vice president of Analysis Solutions, Tobii Technology AB.
There were 26 shoppers involved in the study with 50 per cent of them choosing to purchase the new 3D labelled XL Volume Shampoo. In total the new bottle was purchased 86 per cent more than the old bottle, this correlates well with the total increase in sales of 90 per cent which were witnessed by the brand owner Grazette of Sweden. Only one participant admitted to having purchased the brand previously.
The quantitative data generated from the Tobii glasses was based on 20 of the 26 participants and found that the bottle with the new labelling received the most attention. The average time that a shopper spent looking at the new bottle with the Rolling Optics 3D label was 2.8 seconds compared with the old packaging (1.81 seconds) and the competing brand (1.55 seconds). As a result it was found that the total time spent looking at the hologram as a percentage of the total viewing time of the new XL Volume Shampoo bottle was 34.5 per cent.
"This study not only shows that our new 3D label creates impact on the buying behaviour of the consumer, but also gives the brand owner unique knowledge of what the central role of a 3D label is when re-launching a brand design like Grazette of Sweden. The amount of attention and interest the new label creates has even surpassed my expectations", says Fredrik Blomquist, CEO of Rolling Optics AB.
-ENDS-
For further information contact:
Louise Mapp/Danielle Mumford (for Tobii UK)
Ascent PR
0118 988 0501
Louise.mapp@ascentpr.co.uk
About Tobii Technology
Tobii Technology is the global market leader in hardware and software solutions for eye tracking and eye control. Our products are widely used within the scientific community and in commercial market research and usability studies, as well as by disabled people as a means to communicate. Tobii also drives integration of eye tracking technology in a large number of other areas, offering OEM components for integration into various industry applications.
Founded in 2001, Tobii has continuously shown very rapid year-to-year revenue growth. The company is based in Stockholm, Sweden, with offices in the US, Germany, Norway, Japan and China. Products are sold directly to customers and through resellers and partners worldwide. For more information, visit: www.tobii.com
For further information contact:
Fredrik Blomquist, CEO Rolling Optics
0046 (0) 708 886 986
fredrik@rollingoptics.com
About Rolling Optics - Seeing is Believing
Rolling Optics has developed a new generation of 3D visual materials that can be used to differentiate packaging products in store and to authenticate original products. By offering the greatest design freedom available in the market, together with high security production at own facilities in Stockholm, Sweden, Rolling Optics deliver true differentiation for international brands in an increasingly competitive market – all packaged in a label.
The brand-customized 3D material delivered as labels on roll, Rolling Optics supply anything from a single foil to a run of millions.
www.rollingoptics.com