An East Midlands shopping centre has appointed an 8-year-old girl as its first ever Head of Fun. Molly Taylor, from Derby, was one of over 30 applicants for the 'most fun job in town' advertised by Westfield Derby shopping centre. She landed the role after winning over the interview panel with her infectious giggle and fun ideas.
Molly will now provide consultancy on all children's activities taking place at the centre over the next twelve months, in addition to carrying out official duties including welcoming celebrities and cartoon characters to the centre. She will also oversee a refurbishment of the centre's parent and child facilities.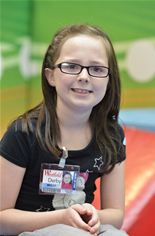 Molly Taylor, Head of Fun
Molly was appointed following an interview with centre management when she impressed the panel with her ideas of Christmas face painting, Easter egg hunts, t-shirt design competitions and ideas for kids over the school holidays.
Despite only being appointed on Friday last week, Molly has already been busy speaking with the media, including Radio 2's Simon Mayo, and officially opening Santa's Grotto.
In return for her expertise, Molly will be paid in gift vouchers and toys throughout the year.
As the standard of applications was so high, Westfield Derby's management team also appointed four Deputy Heads of Fun; Joseph Preedy (7), Penelope Harrison (9), Lucy Farrow (9) and Kieran Wakefield (10), who will all make up the 'Panel of Fun'. The four will help Molly make decisions and will join her on special missions, such as toy testing.
Centre manager, Janine Bone, said: "So many of the children came to the interviews with fantastic ideas and we had a very difficult decision to make. Molly, Joseph, Penelope, Lucy and Kieran all stood out for their own individual personalities and creativity; most importantly, they made us smile!
"We are really looking forward to working with each of them over the next year and can't wait to hear their thoughts on the kinds of activities they want to see at the centre."
Head of Fun, Molly Taylor, said: "I saw the job advertised in the paper and applied as I thought I might be good at it. I have lots of fun ideas for children's activities during the school holidays and weekends. I was so excited when I was told I had got the job!"
ENDS
Media contacts
For more information please contact Natalie Wignall on 0121 321 1681 or natalie.wignall@waa.co.uk