Branding firm unveils new visual identity and positioning for cloud solutions provider
LONDON, AUGUST 1, 2019 – Today, Siegel+Gale announced its branding partnership with global cloud-native solutions provider Cloudreach.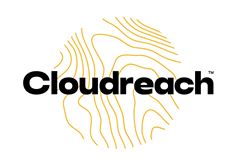 Siegel+Gale Partners with Cloudreach on Brand Relaunch
Since its founding in 2009, Cloudreach has expanded its global footprint to become one of the largest cloud-native service providers in the world. As part of its growth strategy, the company engaged Siegel+Gale to develop a new positioning and visual identity to reflect its evolution.
The new brand positioning expresses Cloudreach's strong competitive advantage. Its capabilities go beyond leveraging the full benefits of cloud technology to cultural transformation—its services and software create behaviors and cultures that drive innovation and a better way of working. Cloudreach's new tagline—Elevate your future—is a clear expression of its brand mission and personality.
To create the new visual identity, Siegel+Gale interpreted Cloudreach's offering and positioning. Cloudreach required a unique look and feel that differentiated it from the competition. The new identity—everything from the logo and colour palette to the iconography and visual language—helps Cloudreach stand out as a confident, optimistic brand that is unique amongst its peers.
"Cloudreach has an innate understanding of what the future looks like, giving them the ability to help their customers stay one step ahead and successfully navigate their migration to the cloud." said Deva Corriveau, Design Director, Siegel+Gale. "To suggest this predictive quality, the graphic style of the brand recalls isobar diagrams on a weather map, creating a visual language that subtly references 'the cloud' and, more importantly, the elevated perspective that customers of Cloudreach benefit from."
"What differentiates Cloudreach is their unique approach and their focus on people utilizing their technology," said Nick Miller, Senior Director of Strategy, Siegel+Gale. "At this important inflection point, the refreshed brand puts its proposition and cutting-edge capabilities front and centre."
"Our partnership with Siegel+Gale comes at an important moment in our history. Marking ten years since Cloudreach was founded, this new brand identity expresses our bold ambition and optimism for the future," said Ashley Wirasinha, Chief Marketing Officer at Cloudreach.
###
About Siegel+Gale
Siegel+Gale is the simplicity company. We seek it, defend it and embrace it in everything we do to help brands reach their true potential. Simplicity is the centerpiece of the strategies we develop that reveal the unique truths of an organization, the engaging stories we create that connect brands with their audiences and the meaningful experiences we deliver that are both unexpectedly fresh and remarkably clear.
Since 1969, Siegel+Gale has championed simplicity for leading corporations, nonprofits and government organizations worldwide. We have offices in New York, Los Angeles, San Francisco, London, Dubai, and Shanghai, but we're willing to fly just about anywhere. We're also not alone. As part of the Brand Consulting Group, a division of Omnicom Group Inc., we have strong partners all around the world.
About Omnicom Group Inc.
Omnicom Group Inc. is a leading global marketing and corporate communications company. Omnicom's branded networks and numerous specialty firms provide advertising, strategic media planning and buying, digital and interactive marketing, direct and promotional marketing, public relations and other specialty communications services to over 5,000 clients in more than 100 countries.
# # #
Contact:
Molly Muldoon
PR Director, Siegel+Gale
mmuldoon@siegelgale.com
1.212.453.0491