(London, 3 Oct) Entrepreneur and founder of the China Club and Shanghai Tang, Sir David Tang, hosted a private dinner at his famed China Tang restaurant in the Dorchester Hotel in London in aid of a new UK animal charity China Tiger Revival (UK) and the Princes Charities Foundation (China).
The exclusive dinner was sponsored by Sir David Tang and co-hosted by actor/TV presenter Stephen Fry. Over sixty guests attended the private dinner to show support.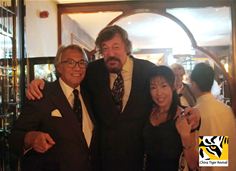 Sir David Tang with Stephen Fry and Li Quan
"We must all fight against the cruelties of the trading of animal parts. We must also rescue certain beautiful animals such as the South China Tigers. All because we want to live in a more civilized and kinder world-and for our children to do so", said Sir David Tang. "I am sponsoring the dinner to raise money in order to maximize the awareness and education on these two vital environmental issues."
The Prince of Wales sent a letter in praise of the effort which was delivered during the dinner, "There are few more acute and poignant manifestations of our impact on the natural world than the loss in large numbers and, perish the thought – the potential extinction in our lifetimes of a number of the world's most iconic, charismatic and beautiful species, among which the tigers of South China – as with the rhinos and elephants of Asia and Africa –have a particular place in our imaginations and our hearts." And "It seems to me that all humanity is diminished if we lose these remarkable species, and indeed that humanity is less than humanity without the rest of creation….. These efforts can play a hugely important role, too, in encouraging a change in the attitudes of peoples and societies".
Li Quan, a founding director of China Tiger Revival says, "I have been engaged in tiger conservation for fourteen years and I am very proud that the South China tiger rewilding and reintroduction model I set out to experiment over ten years ago has now been considered a viable option to supplement wild tiger populations. I am extremely grateful to Sir David Tang for his continued support for our work to encourage China in her endeavour to protect nature, biodiversity and save endangered wildlife. We are so honored to have Sir Stephen Fry's endorsement for the work of our new charity".
Ian Penman, Chairman of China Tiger Revival says, "I have been to China many times and nature protection is a big issue there. We want to engage and collaborate with China to protect as well as restore nature that has been compromised".
China Tiger Revival is a group of charities based in UK and Australia. The mission of the charity is to save tigers and other endangered species through awareness building and education, as well as restoring and protecting their habitat in China and elsewhere in the world. We aim to support China's effort to re-establish wild tiger populations and other endangered species in their historical range.
We emphasize the importance of co-existence between humans and wildlife and promote conservation in China so that wildlife conservation becomes sustainable by engaging local communities who can benefit from tiger conservation long-term.
The charity counts on patrons such as Lang Lang, Lord Tim Clement-Jones & Nick Rhodes.
For more information on China Tiger Revival: http://www.chinatigerrevival.org.uk
To schedule interviews:
info@chinatigerrevival.org.uk
MEDIA SHEET
Li Quan Biography
Ms. Quan received a BA from Beijing University and a dual MBA/MA from the Wharton School of Business and the Lauder Institute of University of Pennsylvania. She pursued a career in fashion business and was head of worldwide licensing with Gucci before establishing several charities in the UK, US, Hong Kong, Australia and China, to raise awareness and provide funds and expertise to help China's effort to save flagship species. She founded the world's pioneering South China Tiger Rewilding and Reintroduction project with the Chinese State Forestry Administration. Her pioneering experiment to rewild and reintroduce the South China Tigers back into nature has now become a necessary alternative to supplement wild tiger populations through tiger range countries in Asia.
Li is a founding director of China Tiger Revival.
Historical facts on the South China Tiger
Believed to be the ancestor of ALL tiger subspecies. One hundred years ago there were nine subspecies of tiger. Three subspecies are now extinct - the Bali, Javan and Caspian tigers. The remaining subspecies are the Siberian, Bengal, Sumatran, Indo-Chinese, Malay and the South China tigers, all of which are now critically endangered.
The South China tiger used to exist all over central and south China, but has retreated to more remote and mountainous areas south of the Yangtze River. There are less than 30 Chinese Tigers in the wild while the remaining 100 are in captivity.
China Tiger Revival Appeal Patrons
China Tiger Revival Patrons include Sir David Tang, Pianist Lang Lang, Duran Duran star Nick Rhodes, Lord Tim-Clement Jones, Chinese film directors Chen Kaige and Jiang Wen.