IODR, the Indian Ocean Disaster Relief charity founded and run by Grange Hotels, is proud to be partnering with the Laureus World Sports Academy and England Cricket legend Sir Ian Botham on his latest fundraising walk across Sri Lanka.
The walk, which is expected to take eight days, will take Sir Ian from Mankalum in the north to Seenigama in the south to raise funds for Laureus projects across the globe and IODR in Sri Lanka. Whilst IODR was originally set up to help provide immediate aid in the wake of the tsunami across the Indian Ocean region, the charity, who were proud to be the charity partner of the film The Impossible, also aims to help communities rebuild in the months and years following the disaster.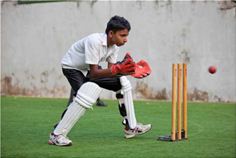 Catching cricket ball
"It's going to be like nothing I have ever attempted before. It's going to be arduous in the extreme, with fierce heat in challenging tropical conditions," said Botham, describing the walk, "I have really strong connections with Sri Lanka and I know if I can raise a lot of money it is going to do so much good for young people there."
Having witnessed the unimaginable devastation of the 2004 Tsunami which led to the founding of IODR, Grange Hotels' Managing Director Tony Matharu commented on the charity's involvement with the walk, saying "Sport has a unique way of breaking down barriers, diminishing enmity, developing confidence, and generally empowering individuals, families and communities. This walk will be significant in many ways to those in Sri Lanka and globally."
Following the tsunami in 2004 Sir Ian went to Sri Lanka to assess the situation and decide what needed to be done to help. He saw how the creation of a sports-based project played a significant role in helping to rebuild the community, and funds from the walk will help create a second centre in Mankalum in the north of Sri Lanka to help to build relationships between the north and the south of the country through sports.
IODR:
IODR is a UK registered charity working to alleviate the suffering of communities in the Indian Ocean region, through the provision of sustainable education and training programmes that improve the capacity of local organisations and enhance the livelihoods of vulnerable children and young people.
Contact:
Web: www.iodr.co.uk
Telephone: +44 (0) 207 828 0501
Fax: +44 (0) 20 7233 8525
About Grange Hotels:
As London's leading independent hotel group, Grange Hotels is a unique collection of 17 luxury hotels situated in key locations across the heart of the capital. At Grange Hotels you will find 2000 luxury bedrooms and suites, the capacity for over 2000 people across state-of-the-art conference and events spaces, stunning fitness and leisure facilities, and myriad dining and entertaining opportunities - all designed to suit today's discerning international traveller.
Contact:
Web: www.grangehotels.com
Telephone: +44 (0) 20 7630 2000
Fax: +44 (0) 20 7835 1888
E-Mail: marketing@grangehotels.com
For more information about Grange Hotels' luxury portfolio, contact:
Grange Hotels Sales Team
T: +44 (0) 20 7630 2000
E: sales@grangehotels.com
www.grangehotels.com