London, UK – 31 January 2013 - Independent game developer Vivid Games, the creator of hit game Real Boxing, today announced Ski Jumping Pro, its newest title for iPhone, iPad and iPod touch.
Ski Jumping Pro is the latest addition to the popular "Ski Jumping" series of games that have so far been downloaded over 2.5 million times overall. This new version includes advanced new graphics, exciting new courses and play modes, plus the ability to extensively upgrade and personalise your skier.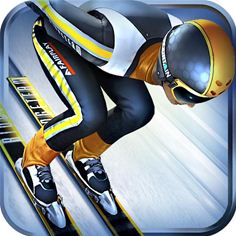 Ski Jumping Pro 1
Ski Jumping Pro has been designed to accurately recreate the extreme winter sport through an immersive first person perspective. Fans of the sport will also recognise many of the thirty world-famous courses that have been individually re-created for the game to guarantee maximum authenticity.
The game also features intuitive controls that encourage new and experienced players alike to nail the perfect launch and shatter records. The new upgradeable character system and career mode adds extra depth and replayability as players compete to unlock new courses. A "Quick Jump" mode is also available for short gaming sessions.
Key features:
Full 3D characters, hills and courses

Compete in a season of 62 events across 32 venues

Quick Jump and Career modes

Deep character customization, including gloves, skis, helmet, boots and suits

Use Flow Mode to perform risky record-breaking jumps

Two difficulty levels: Casual & Pro

Unlockable content such as new contests and venues

Watch slow motion replays of your best jumps

Replayable in "+" level for increased difficulty

From the creators of App Store smash hit Real Boxing
Ski Jumping Pro is available for $0.99 / £0.69 from the App Store on iPhone, iPad or iPod touch or at: https://itunes.apple.com/app/id585599497
**Note to editors**
Media assets including screenshots and video are available from skijumpingpro.appromoter.com or you can download a media kit from: http://www.vividgames.com/DIMOSO/Ski_Jumping_Pro/SkiJumpingDigitalPressKit.zip
Download the video from: http://www.vividgames.com/DIMOSO/Ski_Jumping_Pro/Video/Ski_Jumping_Pro_-_Trailer_(Final).mp4
Or watch it on YouTube: http://www.youtube.com/watch?v=8hclnXKZHOo
About Vivid Games
Vivid Games is one of Europe's premier emerging independent development studios, with a passion for accessible and engaging gaming at the heart of its philosophy. Founded in 2006, Vivid Games is making a valuable contribution to the worldwide games development community. Vivid Games has become renowned for its specialization in cross-platform development, working both with licensed brands and exciting new IPs of its own. http://www.vividgames.com/
Media Contact
For promo codes and more information please contact:
Valentina Ciolino, dimoso
valentina@dimoso.com +44 (0) 207 033 2660