LONDON, 6 April, 2011: Digital agency Skive has unveiled the first work in support of Carlsberg's new global brand repositioning, which is being rolled out in over 140 markets starting this week.
The campaign is Carlsberg's first global digital effort, and features integrated rich media online ads and specially created content for YouTube and Facebook, building on the new 'That Calls for a Carlsberg' strapline.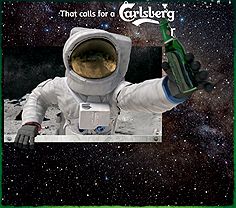 Spaceman
Among the innovative elements of the digital content is a Facebook application allowing users to send messages from the moon to their mates, using text-to-voice and face mapping. There's also a Carlsberg YouTube brand channel takeover, extending the TVC's landmark moments in history theme and giving them a surprising twist.
The campaign also includes television, print and point-of-sales activity, created by Fold7. As well as a new positioning, the brand identity has been refreshed and a product-led campaign will run alongside focused on making Carlsberg a more valuable asset within the company's brand portfolio. Skive has also produced online ads and Facebook content to integrate this work.
David Robertson, Vice-President, Marketing Activation at Carlsberg, said: "Skive has done an amazing job extending our Carlsberg brand idea into the digital realm with a campaign that brings the fun and humour of 'That Calls for a Carlsberg' to life in a way that will really engage consumers."
Louis Clement, Creative Partner at Skive, said: "The digital campaign will support the new television advertising, ensuring that it reaches audiences who spend their time online."
"It will offer them engaging content and giving them a reason to become an advocate of Carlsberg" adds Steven Bennett-Day, Creative Partner.
ENDS
About Skive
Skive is an award-winning, independent digital creative agency specializing in strategic and creative campaigns that bring consumers into a closer, more rewarding relationship with brands.
Recent work includes LoveFilm and KitKat's joint promotion, and the new Team Lotus 'F1 for Every1' and Team AirAsia launches.
About Carlsberg
The Carlsberg Group is one of the leading brewery groups in the world, with a large portfolio of beer and other beverage brands. The flagship brand – Carlsberg – is one of the best-known beer brands in the world and the Baltika, Carlsberg, and Tuborg brands are among the six biggest brands in Europe.
More than 43,000 people work for the Carlsberg Group, and its products are sold in more than 150 markets. In 2010, the Carlsberg Group sold more than 135 million hectolitres of beer, which is about 40 billion bottles of beer annually.
Find out more at www.carlsberggroup.com.