The Skoll Centre for Social Entrepreneurship has announced the 14th cohort of the Skoll Scholarship to the Masters of Business Administration (MBA) programme at Saïd Business School, University of Oxford.
Four entrants were accepted for this highly competitive scholarship following a rigorous application and interview process. The 2017-18 cohort of Skoll Scholars come to Oxford from Portugal, the United States of America and India, and will join their fellow MBA classmates on 18 September in Oxford.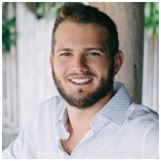 Aaron Bartnick
The Skoll Scholarship is awarded each year to individuals who pursue entrepreneurial solutions for urgent economic, social, and environmental challenges. It provides full tuition and a living stipend for entrepreneurs who have founded a venture or initiative that has a social or environmental purpose, as well as impact career professionals. The Scholarship is an opportunity for these individuals to improve their knowledge of market-oriented practices so they can work more effectively towards their goals.
The 2017-18 Skoll Scholars are:
Aaron Bartnick
Aaron Bartnick's work aims to improve political and economic agency. He has led several ventures in US politics, and most recently helped develop the Iraqi Kurdistan Region's first university-based start-up incubator. He has lived and worked in 14 countries on four continents.
'It is an incredible privilege to be selected as a Skoll Scholar. The Skoll Centre has been developing world-class social entrepreneurs for over a decade, and I am humbled by the opportunity to join and learn from this community,' he said.
Nikhil Dugal
Nikhil Dugal is a social entrepreneur working in the field of environmental sustainability. He co-founded Aadhan, which recycles old shipping containers into eco-friendly infrastructure and has previous experience working in public policy, microfinance, and impact evaluation.
Nikhil commented: 'I'm ecstatic about being chosen as a Scholar. It has given me the opportunity to think about the impact I will generate with my MBA, instead of compromising on my passion due to a student loan. The Skoll Centre for Social Entrepreneurship offers some of the best opportunities and networks to students interested in social enterprise, and I'm excited to participate this coming year.'
Sandra Fisher-Martins
Sandra is a plain-language activist and entrepreneur. She founded Português Claro in 2007 to work with Portuguese businesses and government agencies to simplify their communication and help people make better-informed decisions about their health, well-being, finances, and education.
'It was Oxford Saïd's focus on social entrepreneurship that attracted me to the School. I want to improve my management and leadership skills, but most of all I want to learn to think bigger — strategically, systemically, globally — to increase my social impact.
As a Skoll Scholar, I'll have the opportunity to reflect on my practice as a social entrepreneur within a community of action-oriented, yet thoughtful, social impact leaders,' she said.
Kevin Duco Warner
Kevin Duco Warner is an American entrepreneur operating at the intersection of food, agriculture, and the environment. Focused on the social impact of food, he has worked to develop market-driven solutions to climate change through the advancement of the local food movement.
He commented: 'I am thrilled to be joining the Skoll community during my time at Oxford. The partnership of the Skoll Foundation with Saïd Business School has made Oxford a world leader in the field of social impact, and I am deeply honoured to have received the prestigious Skoll Scholarship for social entrepreneurship. It offers me a unique opportunity to tackle the world's problems through the use of creative, market-driven solutions.'
To learn more about the Skoll Scholarship and previous recipients of the award, visit skollscholarship.org.
To arrange interviews with the Skoll Scholars, or for more information, please contact the press office.
Tom Pilsworth, PR Coordinator, Saïd Business School
T: +44 (0)1865 288879 M: +44 (0)7753277689
Email: thomas.pilsworth@sbs.ox.ac.uk
Josie Powell, PR Manager, Saïd Business School
T: +44 (0) 1865 288403 M: +44 (0)7711 387215
Email: josie.powell@sbs.ox.ac.uk or pressoffice@sbs.ox.ac.uk
About the Skoll Centre for Social Entrepreneurship
The Skoll Centre for Social Entrepreneurship is a leading centre for the advancement of social entrepreneurship worldwide. The Skoll Centre's mission is to accelerate the impact of entrepreneurial activity that aims to transform unjust or unsatisfactory systems and practices. The Centre fosters social transformation through education, research and collaboration, and was founded in 2003 by the Skoll Foundation with a gift to the Saïd Business School at University of Oxford.
About Saïd Business School
Saïd Business School at the University of Oxford blends the best of new and old. We are a vibrant and innovative business school, but yet deeply embedded in an 800 year old world-class university. We create programmes and ideas that have global impact. We educate people for successful business careers, and as a community seek to tackle world-scale problems. We deliver cutting-edge programmes and ground-breaking research that transform individuals, organisations, business practice, and society. We seek to be a world-class business school community, embedded in a world-class University, tackling world-scale problems.
In the Financial Times European Business School ranking (Dec 2016) Oxford Saïd is ranked 11th. It is ranked 1st in the UK and 4th worldwide in the FT's ranking of open enrolment programmes (May 2017) and 2nd globally for aims achieved in the FT ranking of MBA programmes (Jan 2017). The MBA is ranked 3rd in Businessweek's full time MBA ranking outside the USA (Dec 2016) and is ranked 5th among the top non-US Business Schools by Forbes magazine (Sep 2015). The Executive MBA is ranked 2nd worldwide in the Economist's Executive MBA ranking (Sep 2015) and 9th worldwide in the FT's ranking of EMBAs (Oct 2016). The Oxford MSc in Financial Economics is ranked 11th in the world in the FT ranking of Masters in Finance programmes (Jun 2017). In the UK university league tables it is ranked first of all UK universities for undergraduate business and management in The Guardian (May 2017) and 2nd in The Times (Sept 2016). For more information, see http://www.sbs.ox.ac.uk/