UK cloud services company also becomes certified global Cisco Cloud and Managed Services Advanced Partner
London – September 17th 2013 – Skyscape Cloud Services Limited, the easy to adopt, easy to use and easy to leave Assured Cloud Services Company today announced that it has been successful in obtaining ISO20000 certification for its IT Service Management system, following a thorough assessment undertaken recently by LRQA. Skyscape also announced it has become a certified global Cisco Cloud and Managed Services Advanced Partner.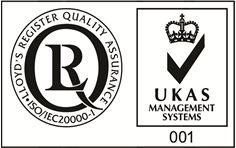 ISO20000 logo
ISO20000 is the first international standard which provides an assessment of an organisation's ability to deliver a structured and effective framework of best practice IT Service Management activities. The standard ensures that companies, such as Skyscape, can achieve an internationally recognised, evidence-based benchmark in the delivery of its IT services, as well as being able to demonstrate continual improvement.
"We're thrilled to have been successful in obtaining ISO20000 certification and to be joining the elite group of companies who have previously been certified" said Simon Hansford, CTO of Skyscape Cloud Services. "At Skyscape, we firmly believe in the importance of offering an optimal IT strategy, encompassing effective service design, transition, operations and continual service improvement. These goals fit well with the requirements of the ISO20000 standard and by meeting these requirements, we're able to offer our UK public sector customers, and ultimately their end users – UK citizens – more flexible and efficient IT solutions as well as flawless service delivery."
Skyscape has also succeeded in meeting all of the criteria required to become a Cisco Cloud and Managed Services Advanced Partner worldwide by achieving the Cisco Powered Service designation for its Infrastructure-as-a-Service offering.
"Skyscape's commitment to offering its customers and partners innovative, agile and more cost effective cloud solutions has had a major impact on the UK public sector IT market," said Phil Smith, CEO, Cisco UK and Ireland. "Skyscape has successfully met our stringent requirements, and shown its ability to develop, deliver, manage and support Cisco-based cloud and managed service solutions. As a result, we're looking forward to extending our partnership with Skyscape in order to better service our UK Government customers."
Skyscape's catalogue of secure, sustainable and compliant services include Infrastructure-as-a-Service (IaaS), Platform-as-a-Service (PaaS) and Software-as-a-Service (SaaS), all of which are available to UK Government and public sector organisations through the G-Cloud Framework.
Hansford continued, "In achieving both the ISO20000 certification and Cisco Cloud and Managed Services Advanced Partner status, we feel confident that our services not only meet our customers' needs, but also meet the stringent requirements of these internationally respected organisations. We're one of the few companies to have secured this amazing double achievement and these accolades reflect our ongoing hard work in striving to help our customers to benefit from cost savings, enhanced end-user satisfaction and truly industry-leading IT services."
- ends –
About Skyscape Cloud Services
Skyscape's cloud solutions (www.skyscapecloud.com) will help the UK Public Sector to transform the provision of IT services into a lean, elastic, assured, green utility by providing a genuine on-demand cloud computing service. With a range of UK sovereign services that are easy to adopt, easy to use and easy to leave, Skyscape's solutions reduce both the risk and cost of delivering IT. Skyscape services have been accredited by CESG Pan Government Accreditor (PGA). The company has signed the government's Procurement Pledge.
Media Contacts
Charlotte Martin/Fiona Halkerston
Johnson King
+44 (0)20 7401 7968
SkyscapeTeam@johnsonking.co.uk