miniStation enables users to access hundreds of games via TV
Beijing, China, 1 September 2016 – Shenzhen Skyworth Digital Technology Co. LTD. (000810.SZ), a leading set-top box and smart home solutions provider, today unveiled the miniStation – the OTT gaming console that is the result of its successful partnership with Internet value-added services provider Tencent Holdings Limited.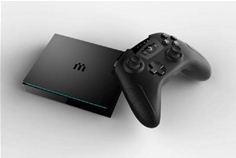 Skyworth Digital's miniStation
miniStation – an innovative TV game console based on the Android Operating System – offers hundreds of games from top game studios such as Tencent and Gameloft to consumers via their TVs. Unlike traditional game consoles, the miniStation can be controlled either by traditional game controllers or by mobile phones. Up to eight devices can access the miniStation at the same time, making it a truly compelling multi-user gaming platform.
The pioneering device was launched in response to the around 170M subscribers Tencent has to its mobile phone games and addresses the need for an improved audio and visual experience in this market. The miniStation also offers OTT service, allowing users to be connected to their TV screens anywhere and at any time, meeting the growing demand for TV Everywhere technology.
"This product is incredibly exciting, both from a consumer and industry perspective," said Darrell Haber, Vice General Manager at Skyworth Digital. "The miniStation combines convenience and accessibility to games and video content with the highest quality visual and audio experience. We are very much looking forward to showcasing this brand new product to our customers at IBC and marking our first step into the gaming industry."
The miniStation – which received the BlackGold Award at the ChinaJoy game show last month – will be demoed at IBC 2016 as part of Skyworth Digital's vision for the digital home of the future. The showcase will highlight how tomorrow's trends can be integrated and packaged for end-users in the future.
Delegates attending IBC 2016 can view the miniStation demo and find out more at Skyworth Digital's booth – Stand 5.B61.
ENDS
About Skyworth Digital
Shenzhen Skyworth Digital Technology Co. LTD. is a global provider of smart home solutions and the third biggest set-top box manufacturer in the world, with 50% of all shipments to customers outside of China. With a strong background in consumer electronics, Skyworth Digital delivers more than 30 million units annually to more than 90 countries by partnering with customers to provide value-added, end-to-end solutions with the highest quality products and services. As the undisputed leader in OTT solutions in China, Skyworth Digital has proven that they can deliver turn-key OTT solutions that can be deployed quickly in any market.
About Tencent
Tencent uses technology to enrich the lives of Internet users. Every day, hundreds of millions of people communicate, share experiences, consume information and seek entertainment through our integrated platforms. Tencent's diversified services include QQ, Weixin/ WeChat for communications; Qzone for social networking; QQ Game Platform for online games; QQ.com and Tencent News for information and Tencent Video for video content. Tencent was founded in Shenzhen in 1998 and went public on the Main Board of the Hong Kong Stock Exchange in 2004. The Company is one of the constituent stocks of the Hang Seng Index. Tencent seeks to evolve with the Internet by investing in innovation, providing a mutually beneficial environment for partners, and staying close to users.
For more information:
Skyworth Digital
Darrell Haber
Vice General Manager
Darrell@skyworth.com
+86 186 64975397
Proactive PR
Jayne Garfitt
Account Director
jayne.garfitt@proactive-pr.com
+44 1636 812 152