After developing apps for a host of impressive blue chip organisations over the last decade, Slate Apps has officially launched its own hospitality application to the market, following two and a half years of development. Slate Apps is an industry-leading software development company specialising in mobile device and web app development.
Slate is a state-of-the-art, digital guest interface and management system which cleverly combines hospitality guest services with the very latest technology. It is designed to engage guests, drive increased average spend and significantly improve business performance.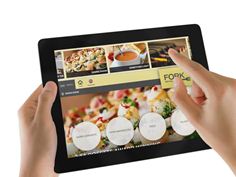 Slate F&B
Slate F&B is an interactive and fully customisable digital menu system that allows guests to browse the menu on any mobile device or tablet and can even be configured for guests to order and make payment direct from their table.
Slate Apps are fully bespoke and all imagery, branding and content can be updated to match the host's requirements. Each menu item can be displayed across multiple categories, allowing restaurants to be creative with how they categorise the menu. Menu items can also be linked to other items for automatic recommendations and up-selling prompts. Slate F&B also supports wine-pairing to allow restaurants to complement their food offering by recommending their premium wines.
Using digital menus allows restaurants far more flexibility in pricing. Restaurant managers can test higher price-points, reduce prices to shift stock and advertise daily specials or promotions simply by making the necessary updates via the management system and avoiding the trouble, cost and environmental impact of having to re-print menus over and over again. Restaurants can also use the built-in advertising functionality to publicise upcoming events, promotions or other business interests.
Slate works on mobile devices and tablets across IOS, Android and Windows, as well as being offered on widescreen TVs to which Slate can retrospectively install touchscreen capability. This can enable restaurants to capitalise on passing footfall by displaying the digital menu outside the restaurant, capturing the attention of passers-by, and providing a modern replacement to the antiquated menu display box.
The management team successfully attended 'To The Table' in September – a hotels and food and beverage trade-show held in Dubai which CEO Ashley Coker commented "offered an incredible opportunity to introduce Slate to the global marketplace, and provided a solid platform from which we have continued to build relationships in the industry and grow our client base. We are in the process of expanding the team to meet anticipated demand by employing two new development staff to continue to evolve the product suite to ensure we remain at the forefront of technology in the hospitality industry".
Slate are also pioneering the use of iBeacon micro-location technology to allow hospitality businesses to develop creative and revolutionary marketing campaigns inside the Slate app based on the movements of their guests. This technology allows businesses to introduce innovative marketing such as automatic prompts to review or leave feedback for a restaurant once a guest leaves the premises; notifications of promotions or special events taking place as a guest enters a hotel; or encouraging guests to return soon as they leave a bar by offering a digital coupon for a free drink.
Slate Meeting
The newest addition to the Slate product suite, Slate Meeting brings the heightened hospitality experience into any corporate meeting room. Allow your guests or staff to order coffees and refreshments, request equipment such as a projector screen or flip chart, contact IT, extend their room booking or more. Slate Meeting can offer all of these services, whilst displaying company news or advertisements via its attractive user interface.
Slate are in the process of developing further products for the hospitality industry to complement their product suite.
For further information on Slate Apps, please visit www.slateapps.com
Ashley Coker, CEO and Co-founder can be contacted at: Ashley.coker@slateapps.com or on +44 77382 64519.