Slate announces the official launch of its in-room concierge solution which retrospectively converts existing TVs into interactive, touch-screen concierge portals displaying a beautifully crafted app through which guests can browse and order food and drink, or any other hotel product or service, straight from their room.
At the upcoming Travel Technology Europe event in London (24-25 February), Slate will be presenting their pioneering in-room service solution – Slate Concierge, for the first time. They have developed a solution to convert existing hotel room TVs into interactive touch screen devices, displaying their elegant concierge application.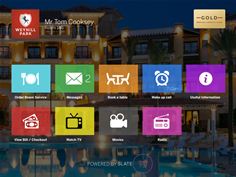 Slate Concierge
CEO, Ashley Coker, commented that "hotels will now be able to truly capitalise on that moment when a guest finally enters their hotel room by offering an opportunity to order a welcome drink, maybe a bottle of champagne, or a massage, simply by touching the relevant button directly on the TV. Our visually elegant display attracts the attention of incoming guests, and ordering is as simple as touching the relevant button right on the TV set, which is always prominently displayed. The moment a guest first arrives is a prime opportunity to upsell as it captures that moment, potentially after a long day of travelling, where the guest's holiday finally begins!"
"Whilst some hotels have installed comparable products to allow guests to order through their TV sets, often they are cumbersome, require the guest to struggle with the remote control or to download and register a complicated app on their phone. With Slate, it's easy. In today's world, we are all used to touching screens to control our devices, whether it's our smartphone, or a tablet, touch is something we are all used to and familiar with. Our solution makes it easy for guests to enjoy the hotel's hospitality, which in turn is great for the hotel. Slate cleverly combines hospitality the very latest technology to engage guests, drive increased average spend and significantly improve business performance."
Slate's solution is retrofitted to the existing TV system, so it does not require the installation of expensive large touch screen devices keeping costs low. With the TV linked to the relevant room, the hotel will instantly receive and can process the order to ensure that their guest's hotel experience is perfect. With a fully customisable interface, hotels can opt to display whatever products, services or promotions they want to drive and have full control of the back-end management system.
Guests are able to continue to utilise the concierge service throughout their stay to browse and book any other hotel services, whether it be ordering room service, booking a golf tee time, making restaurant reservations or taking advantage of a hotel promotion. Guests are welcome to continue to interact through their TV or by downloading the Slate application to their own device, to use wherever they are in the hotel or beyond.
Slate Concierge is complemented by an in-restaurant application – Slate F&B, as well as an in-Lobby product – Slate Lobby. All of Slate's apps are designed to help hotels engage with their customers throughout their stay, ensuring that guests take advantage of what the hotel has to offer, heightening the guest experience and encouraging increased average guest spend.
Slate has been developing products for a host of impressive blue chip organisations over the last decade, and is excited to launch its own hospitality product to the market. Slate Apps is an industry-leading software development company specialising in mobile device and web app development.