1 in 5 consumers abandons purchases due to inability to pay by bank card
Launch of new mobile pay as you go 'Chip & PIN' service: WorldPay Zinc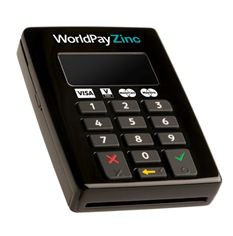 Keypad
London – 27th June, 2013 – New findings from a survey* supporting the launch of WorldPay Zinc, the new pay as you go mobile payment service that enables card payments on the move, reveal that many of the UK's four million small businesses could be missing out on an extra 20% of revenue simply because they are not offering customers the option of paying for goods and services by debit and credit card. The research also reveals that 87% of consumers are likely to spend more money per transaction when paying with a debit or credit card, as opposed to cash, highlighting the potential benefits to small businesses of accepting card payments.
In the last year, one in five (20%) UK consumers has had to abandon a purchase due to a small business or sole trader not accepting card payments or because they were not carrying enough cash to make a payment. These businesses are not only missing out on potential sales, but they are also risking their reputation and customer loyalty.
Over half of consumers (54%) find it inconvenient when small businesses don't accept card payments, rising to 66% amongst 18-34 year olds. The implications are far reaching on a national level also, with 72% of people left with a negative impression of a business that fails to accept cards. Customers associate businesses that don't accept card payments as having poor customer service (28%), being unprofessional (19%) and even perceiving the business as unsuccessful or struggling (18%). In an increasingly competitive economic environment, this poses a real threat to small businesses and sole traders.
The new service is quick and easy to set-up. Businesses and sole traders can simply apply online at www.worldpayzinc.com or download the WorldPay Zinc app on their smartphone or tablet** and apply through the app. All they need then is the sleek black Chip & PIN keypad which they can order online when they apply or alternatively buy for £59.99 in-store at John Lewis. It takes less than five minutes to set up a new account and users can be up and running, receiving secure payments and reviewing full payment details on the move the very next business day.
Mobile workers, from electricians to window cleaners, beauty therapists to market stall- holders, can now take secure card payments. There is no long-term contract commitment or monthly subscription fees, it is simply pay as you go, meaning that businesses can use the service as much or as little as they like. The service also offers quick settlement (with money transferred into the business' bank account usually within 4 days) and customers have the support of a 24/7 UK based helpline.
WorldPay Zinc is built upon WorldPay's robust, high quality platform which is the UK's leading card processor***. Small businesses can also reap the benefits of additional features such as refunds, payment over the phone, text, email or print receipts and real-time access to full payment history (by day, week, month) at the tap of a button on their smartphone, wherever they are in the UK.
Geraldine Wilson, Managing Director, WorldPay Zinc, commented: "We are really excited to launch this great new service which will make life easier for the UK's mobile tradespeople, small businesses and the UK consumer. We have been testing out the service for six months with over 3,000 small businesses, and the feedback has been very positive. These businesses are reporting increased revenues with significantly higher average transaction values for each sale; on top of this, we're also hearing that these tradespeople are spending less time chasing customers for payment and trekking to the bank to pay in cash takings. They're also enjoying being able to portray a more professional image and provide better service to their customers."
Wilson continued: "As consumers, we've all been in that awkward situation where you haven't got enough cash on you to pay for something and card payment isn't accepted. It's embarrassing and frustrating. Our aim is to be the payment partner of choice for small businesses and sole traders, supporting the growth of this vital part of the UK economy that employs over 6 million people."
Donna Dawson, Behavioural Psychologist, commented: "The research shows that we are heading towards becoming a 'cashless' society: in an increasingly fast-paced world, we find using cash to be inconvenient, unsafe and slow. Already we have become used to the ease and speed of mobile, internet and card payments. As a society, we are beginning to demand the ease and convenience of being 'cashless', and those service providers who do not keep up will lose out. The most important reason for service providers to take heed is that using a card changes our fundamental shopping behaviour: 87% of us spend more on a card and, freed from the constraints of cash, we transform from 'careful' shoppers to more 'impulsive' and 'extravagant' ones."
Danny Higgins, a Professional Photographer and Sole Trader who has been using the WorldPay Zinc service since it went on trial enthused; "I've found that customers are much more willing to splash out if they can pay on their card."
Another early adopter of the new pay as you go service, Clara Breen, a jewellery designer, beamed; "The keypad has definitely increased my sales. Often somebody will pick up extra things to buy when they realise they can pay by card. I've recommended it to lots of other business owners."
The key features of the service include:
Pay as you go only 2.75% per card payment - the convenience of card payments without the on-going costs

Chip & PIN keypad only costs £59.99

Sign-up in five minutes and start taking payments the next business day

Secure and trusted Chip & PIN technology with which customers are comfortable

Payments in your bank account usually within four working days

The service is fully supported by WorldPay's UK-based 24/7 customer service helpdesk
* WorldPay commissioned research of consumer attitudes to payments in 2013. 5176 online interviews were conducted with UK consumers (18+ year olds) during April 2013. Respondents were sampled from a range of regions across the UK. Research was conducted by Loudhouse, an independent research agency based in London.
**iPhone, iPad or Android devices supporting operating system 2.3 and above.
*** By transaction value and volume. Nilson Report 2012.
-Ends-
To find out more about the WorldPay Zinc pay as you go card acceptance service and to sign up please visit: worldpayzinc.com
About WorldPay Zinc
WorldPay is a leading global supplier of payment processing services, processing millions of transactions every day. WorldPay Zinc is a pay as you go acceptance service designed specifically for sole traders and small businesses with between one and five employees. It's a low-cost, low-commitment way to accept card payments. The payments terminal is available to buy online and in John Lewis stores for as little as £59.99 (including VAT). The pay as you go pricing plan means users only pay for the transactions they make, but there are several options to suit different needs and use cases. worldpayzinc.com.
Press contact
Katie Potts
Octopus Communications for WorldPay Zinc
+ 44 (00) 845 3700 655
pr@worldpay.com