Expansion Plans include Europe, Canada and the US
London, UK – 18 May 2016 – Smart Storage Ltd, specialists in discrete under stair storage solutions and a successful 2012 Dragons Den entrant, has announced the creation of 100 new jobs in the UK and Ireland over the next 18 months.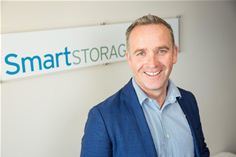 Paul Jacob, MD, Smart Storage
Smart Storage is creating 40 jobs in the UK, as well as 60 jobs in Ireland in the area of sales, marketing, logistics, operations and manufacturing. In the UK, the company has 5 satellite bases: Bristol, Coventry, Manchester, Stevenage and Crawley. As part of the company's growth plans, it will add a further 3 bases in the UK, with 2 in the Greater London area and 1 in the North East of England.
Smart Storage supplies and installs its unique home storage solutions across the UK and Ireland. It has fitted over 5,500 units across the UK and Ireland in 2015. The firm's smart storage product has the potential to fit into 11.5 million homes across the UK and Ireland. With these new hires the firm will have greater capacity to fit storage units into more homes across the UK.
Paul Jacob, Managing Director of Smart Storage said "What started as a nice storage idea is now a multi-million Euro business. We have grown considerably since 2011, when in our first year we had a turnover of €110,000 with one person in the business. Winning our investment on Dragons Den helped to accelerate the company's expansion and we have grown the business to a turnover, this year, of €3.5 million and 50 people employed. Next year, we are on target to sell over €7.5 million of our under stair storage. In order to meet these targets, we are taking on 100 new employees."
Talking about the company's expansion plans, Paul says, "We initially developed the product for the Irish market & then refined the design for the UK. In the last 18 months Smart Storage has been awarded design patents for Europe, the US and Canada, providing the company with opportunities in these markets."

Photography available on request

Editors Notes:
Smart Storage Ltd specialises in discrete home storage solutions. Prompted by the growing 'shoe crisis' in their own home, husband and wife team, Paul and Clodagh Jacob developed Smart Storage range of under the stairs storage solutions. Designed to fit under the main stairwell or attic space, the goal was to maximise storage by installing slide-out drawers. The units fold seamlessly into the wall without having drawer handles obstructing the hallway or room.
The company's head office is in Co. Wicklow and is also the location for its sales, marketing and logistics.
Media Contact:
David Mieny
Elate Communications
David.mieny@elatecommunications.com
0203 691 8234