27 January 2012 - British technology start-up, Power Ethernet, has launched the 'PE Socket', the first product to integrate Powerline networking technology directly into an electrical socket. The PE Socket provides a simple and professional way of specifying high-speed data network connectivity throughout a building by using electrical cabling. The 'PE Socket' is available from leading electrical resellers including CPC and Rapid Electronics.
Based on the HomePlug AV standard for Powerline networking, Power Ethernet's all-in-one PE Socket combines four Ethernet network ports, a fully-managed network switch and filtered power socket into a single device. It fits a UK Standard 35mm double gang metal back box and uses a building's electrical wiring to create a high-speed and secure data network for connecting computers, Voice over IP phones, Internet-connected TVs and digital signage, home automation and entertainment systems, building management systems, CCTV cameras and other Ethernet connected-devices.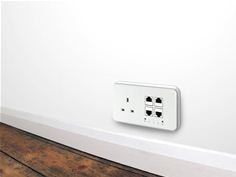 Power Ethernet Socket - in wall view
Power Ethernet's PE Socket is unique in integrating Powerline into the electrical fabric of a building and its sockets. It's a professionally engineered, reliable Powerline solution which has been aesthetically designed to ensure that the sockets can be installed in the most prominent of positions. This enables the creation of a high speed network without the need and the disruption of running specialised cabling.
In Greenfield sites, the Power Ethernet system removes the cost of specifying and installing additional cabling to provide network connectivity. In Brownfield sites, it also removes the costs of making good the installation of additional data cabling and reduces disruption by using existing electrical cabling. It can be used as a complete, backbone network for residential buildings, providing Internet and data connectivity for devices and home automation systems. In commercial buildings it can be used as a simple way of extending existing networks to accommodate demand for new device connections or creating sub-networks to support deployments of IP-based phones, CCTV cameras, building management systems or digital signage.
Power Ethernet managing director, Daniel Rogoff said: "Powerline offers such a simple and cost-effective solution to the challenge of connecting the growing number of Internet-enabled devices used in homes and businesses. However, we quickly realised that Powerline needed a professional makeover for it to reach its full potential as a networking technology. By integrating Powerline directly into the electrical fabric of a building, with the PE Socket, we are able to offer a reliable, simple and elegant approach to specifying Powerline networking. Best of all the PE Socket is designed to be installed by electricians without them having to learn data networking skills."
The Power Ethernet socket supports speeds of up to 200Mbps across mains cabling and distances of up to 300 metres between sockets. The filtered power socket is designed to reduce the effect of electrically noisy devices that may be plugged into it in order to provide the highest network rates across the Powerline network.
Installing two or more PE Sockets instantly creates a high speed, secure Ethernet network running across the existing electrical mains cabling. More devices and additional rooms can be easily added to the network simply by installing additional PE Sockets so creating a truly flexible, affordable networking solution.
A Power Ethernet network includes the advanced networking features needed for commercial deployments, such as support for voice and video over IP, security (128 bit AES), device prioritisation (Quality of Service) and network segmentation (virtual LANs). With a fully-managed network switch on each socket, the Power Ethernet system integrates easily with existing enterprise networks.
About Power Ethernet:
Founded in 2011, Power Ethernet is a UK technology start-up with an innovative, new approach to PowerLine-based networking for both home and commercial applications. Powerline is a proven, well-established and recognised standard that uses power cables to create an instant Ethernet network. Power Ethernet's patent pending integration of Powerline networking technology into electrical sockets provides an effective solution for businesses and home users who seek a simple but elegant solution for creating a high-speed, highly reliable network.
For more information: http://www.powerethernet.com/
For hi-resolution product images: http://www.powerethernet.com/press/press-kit.html
For further media information, contact:
Harvard PR
powerethernet@harvard.co.uk
020 7861 1627

Editors Notes:
In the home -
The Power Ethernet Socket provides a simple solution to the challenge of connecting the increasing number of Internet-enabled devices and the demand for secure, high-speed internet throughout the home.
As a compliment to WiFi, it provides the high-speed connections needed for streaming content and sharing files between computers, games consoles, TVs and other devices, while WiFi provides the mobility required by smartphones and tablets.
With a growing number of home-workers needing access to a high-speed and secure network needed for video-conferencing, VPN access and sharing files with colleagues, this eliminates the hassle of having to relocate the broadband router to the home office.
For businesses -
PE Sockets enable a business to dramatically reduce the time, disruption and cost of installing or extending an Ethernet network. A Power Ethernet network can connect any device with a network port, from computers and voice over IP phones through digital signage and CCTV cameras to building management systems.
In addition to general business use, the PE socket supports a number of specific installation cases -
Hotels – For providing cost-effectively providing Internet access and streaming video into bedrooms

Education – For cost-effectively connecting pupils' laptops in every classroom

Temporary structures – Where a Power Ethernet network can be quickly retrofitted using existing power cables

Listed buildings – Where installing new cabling isn't an option due to listed building regulations

Maritime – Where new cable can't be run through water-tight bulkheads in ships
Further details can be found at www.powerethernet.com