Allot Communications and Wick Hill value added reseller KJAER DATA Partner to Offer NetEnforcer Installation to Swire Blue Ocean
Wick Hill/Allot release: Woking, Surrey: 31st October 2013 - Allot Communications Ltd. (NASDAQ: ALLT), a leading supplier of service optimisation and revenue generation solutions for fixed and mobile broadband service providers worldwide, and Wick Hill Group value added reseller (VAR) KJAER DATA, provider of IT infrastructure solutions, have partnered together to sell their first Allot NetEnforcer installation to Swire Blue Ocean, an offshore wind farm installation company.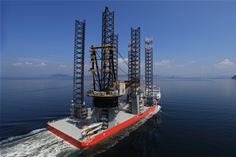 Swire Blue Ocean's 'Pacific Orca'
Allot and KJAER DATA implemented the NetEnforcer solution to remedy lagging network response time on Swire Blue Ocean's two seagoing vessels, which use satellite technology for their Internet connections. NetEnforcer provides the granular visibility and policy enforcement needed to optimise the delivery, performance and profitability of Swire Blue Ocean's Internet services. Allot NetEnforcer delivers highly detailed bandwidth utilisation reports to ensure full transparency of end-user behavior and the stability of external data connections over the available bandwidth.
"Vessel-based Internet networks, like Swire Blue Ocean's, are unique in that they are routed through a satellite telemetry system, instead of a hard wired fiber-optic network. This creates considerable latency and thereby quickly consumes all available data sessions. End-users on the vessels are accessing these networks in the same way they would on land, which crippled their networks," said Richard Holben, regional VP of sales, Northern Europe, at Allot Communications. "We are happy to once again partner with a leading company in Denmark - KJAER DATA - to provide a solution that upholds the network integrity aboard the Swire Blue Ocean vessels."
Over the past two years, KJAER DATA has conducted all of Swire Blue Ocean's IT projects in Copenhagen and aboard both of their vessels, the Pacific Orca and Pacific Osprey. KJAER DATA and Allot will continue to partner on IT solutions related to their offshore business segment.
"We at KJAER DATA are proud to expand our network consultancy services by partnering with Allot Communications. Through this collaboration, we can offer our customers full visibility in identifying and leveraging the business intelligence in data networks. This is an important step and yet another building block in strengthening our provision of broad range network solutions. We look forward to implementing these innovative solutions in Denmark and abroad," said Jens Peter Høgh, COO at KJAER DATA.
Ian Kilpatrick, chairman of VAD Wick Hill Group, commented: "By deploying Allot NetEnforcer, KJAER DATA has done an excellent job of resolving the endemic performance issues created with Internet access over satellite."
About Allot Communications
Allot Communications Ltd. (NASDAQ, TASE: ALLT) is a leading global provider of intelligent solutions that put mobile, fixed and enterprise networks at the center of the digital lifestyle. Allot's DPI-based solutions identify and leverage the business intelligence in data networks, empowering operators to shape digital lifestyle experiences and to capitalize on the network traffic they generate. Allot's unique blend of innovative technology, proven know-how and collaborative approach to industry standards and partnerships enables service providers worldwide to elevate their role in the digital lifestyle ecosystem and to open the door to a wealth of new business opportunities. For more information please visit: www.allot.com
About KJAER DATA
KJAER DATA is a skilled provider of IT infrastructure solutions and have since it's foundation in 2003 specialized in the maritime and offshore industry. With focus on flexible, secure and effective IT solutions KJAER DATA strives to be technologically in front with the aim to help solve its customers toughest IT challenges, so they can compete and thrive. With the newest IT technologies KJAER DATA enables organisations to work smarter whether they operate in extreme conditions, connect over long distances or experience high latency and packet loss. Work smarter is KJAER DATA's business proposal. For more information please visit: www.kjaer-data.com.
About Swire Blue Ocean
Headquartered in Copenhagen, Denmark, Swire Blue Ocean (SBO) is a wholly-owned subsidiary of Swire Pacific Offshore. The company supports the installation of offshore wind farms. The tag line "Difficult Jobs, Difficult Places, Safely" accurately reflects SBO's approach in the offshore wind industry. SBO's willingness to take on challenging work is never compromised by the company's over-riding principle of doing this work safely. For more information please visit: www.swireblueocean.com
About Wick Hill
Established in 1976, value added distributor Wick Hill specialises in secure IP infrastructure solutions and convergence. The company sources and delivers best-of-breed, easy-to-use solutions through its channel partners, with a portfolio that covers security, performance, access, networking, convergence, storage and hosted solutions.
Wick Hill is part of the Wick Hill Group, based in Woking, Surrey with sister offices in Hamburg. Wick Hill is particularly focused on providing a wide range of value added support for its channel partners. This includes a strong lead generation and conversion programme, technical and consultancy support for reseller partners in every stage of the sales process, and extensive training facilities. For more information about Wick Hill, please visit http://www.wickhill.com/company/company-profile or www.twitter.com/wickhill
Safe Harbor Statement
Information provided in this press release may contain statements relating to current expectations, estimates, forecasts and projections about future events that are "forward-looking statements" as defined in the Private Securities Litigation Reform Act of 1995. These forward-looking statements generally relate to the Company's plans, objectives and expectations for future operations, including the expectation to implement the next stage of deployment of tiered services and other prospects of the frame agreement. These forward-looking statements are based upon management's current estimates and projections of future results or trends. Actual future results may differ materially from those projected as a result of certain risks and uncertainties. These factors include, but are not limited to: the expected characteristics of the deployed solution with the LATAM Tier-1 Operator and the ability to secure future orders from said customer, changes in general economic and business conditions and, specifically, a decline in demand for the company's products; the company's inability to develop and introduce new technologies, products and applications; loss of market; and other factors discussed under the heading "Risk Factors" in the company's annual report on Form 20-F filed with the Securities and Exchange Commission. These forward-looking statements are made only as of the date hereof, and the company undertakes no obligation to update or revise the forward-looking statements, whether as a result of new information, future events or otherwise.
ENDS
For further press information, please contact Annabelle Brown on 01326 318212, email pr@wickhill.com. For reader queries, contact Wick Hill on 01483 227600. Web http://www.wickhill.com. For pic of the Pacific Orca, one of Swire Blue Ocean's vessels at sea, please go to http://www.wickhill.com/uploads/images/pacific-orca-seen-from-back.jpg