Only Enterprise Mobility Management Solution to Offer Individual File Encryption, Integrated AV and Web Filtering
OXFORD, UK – May 28, 2014 – Sophos today announced Sophos Mobile Control (SMC) 4.0, the first Enterprise Mobile Management (EMM) solution to include individual file encryption, integrated AV and web filtering. Available on premise or as-a-service, SMC provides a simple and differentiated approach for small and mid-market organisations to manage and secure mobile devices, content and applications. The new Sophos solution helps IT professionals confidently implement BYOD policies and provides users the flexibility they demand to stay productive and safe. It supports iOS, Android and Windows Phone 8 devices.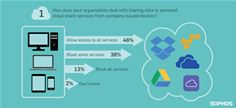 Mobile Cloud Infographic 1
SMC 4.0: Mobile Encryption, Integrated Security and User-Centricity
SMC 4.0 provides a simple, hassle-free and comprehensive approach to protecting mobile devices. With Mobile Content Management for iOS devices, SMC is the only EMM solution to offer file-level encryption, which gates access to each file, to protect the data in the office and on the go. SMC also delivers integrated security against malware and malicious web sites for Android devices, which account for 80 percent of smartphone operating systems* worldwide as well as the majority of mobile malware threats. The number of unique pieces of mobile malware seen by SophosLabs has now reached almost 900,000 and is growing rapidly.
With web protection for Android, IT administrators can select web site categories to control access and block data-stealing or inappropriate web pages. SMC 4.0 also provides unique integration with Sophos UTM, Checkpoint and Cisco to provide network access control. Compromised devices are isolated from the network, protecting the organisation's assets from malware on mobile devices. SMC's user-centric deployment, management and pricing greatly simplifies administration. With an intuitive web-based management console, IT administrators can provide their users with a self-service portal to change passwords, register devices and report lost or stolen devices.
Sophos Survey: Mobile Security in a Cloudy World
Sophos conducted a survey of more than 725 IT professionals on their use and preferences of cloud share services, encryption and mobile devices. The survey showed 84 percent of organisations allow some level of access from company-issued devices to cloud-based file share services such as Dropbox, however 65 percent of respondents do not currently encrypt data between the cloud and mobile devices. Surprisingly only 38 percent feel secure sharing corporate files or collaborating on corporate content between the cloud and mobile devices. To access the survey, visit: http://sophos.files.wordpress.com/2014/05/sophos-mobile-cloud-encryption-infographic.pdf
The results of the survey demonstrate the enormous opportunity for SMC 4.0, as it assures organisations that their data is safe wherever users are and provides organisations with the confidence to use cloud accounts for collaborating and maintaining content safely and securely.
Dan Schiappa, SVP and GM of Sophos' Enduser Security Group, said: "SMC 4.0 extends the Sophos commitment to delivering comprehensive data protection, offering solutions to manage, secure and protect not just the mobile devices themselves, but also the content and applications on those devices. SMC 4.0 takes data protection beyond the office door by ensuring persistent mobile encryption on devices. Additional network access control based on device compliance status makes mobile device management, content management and mobile security simple and effective."
Chris Hazelton, Research Director for Mobile & Wireless at 451 Research, said: "The rapid shift to more flexible and increasingly mobile working patterns has led to widespread adoption (with or without the consent of IT) of file-sync and -share services as users seek to store and collaborate on shared content. This 'any device, any cloud' trend will only continue, so organisations face an increased risk of losing sensitive corporate data if they don't deploy encryption and data loss protection tools. The integration of these data security tools into EMM provides companies with a simple deployment option that should resonate well with the SMB market."
Sophos Customers Look Forward to SMC 4.0
Europart is a leading distributor of replacement parts and accessories for commercial vehicles and buses. The company is headquartered in Hagen, Germany, and has more than 1,800 employees worldwide. Björn Risse, Service Manager Infrastruktur, EUROPART Holding GmbH, said, "Sophos Mobile Control has allowed us to easily deploy mobile security, while giving us the peace of mind that client information is safe and confidential. We chose Sophos for our mobile security because it meets our needs and is able to scale with our business requirements."
"As a user of Sophos Mobile Control we definitely see the value of securing mobile devices. Based on the Sophos roadmap for mobile security, we are excited about the added functionality to Mobile Control as a product and believe the latest versions will continue to support our organisational efforts going forward," said Gerald Descoteaux, IT Director, Bell Technical Solutions, Inc., a wholly owned subsidiary of Bell Canada that specialises in phone, Internet and television services throughout Quebec and Ontario.
* ABI Research
About Sophos
More than 100 million users in 150 countries rely on Sophos as the best protection against complex threats and data loss. Sophos is committed to providing complete security solutions that are simple to deploy, manage, and use that deliver the industry's lowest total cost of ownership. Sophos offers award winning encryption, endpoint security, web, email, mobile and network security backed by SophosLabs - a global network of threat intelligence centers.
Sophos is headquartered in Oxford, UK. More information is available at www.sophos.com.