Delicious, nutritious café brand begins expansion phase with premium Brighton location
Delicious and nutritious… these are the watchwords of fresh food café Soup-urb, now launching in Brighton as the second outlet for this venture from catering visionary Claire Wood and serial entrepreneur Yolanda Noble.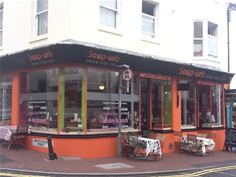 Soup-urb launches in Brighton
Soup-urb's menu ranges from the eponymous soup range, to fabulous taste treats from fresh ingredients, such as the café's signature apple, melon and mint drink, or its home-made lemonade. All sorts of other delicious bites and sips are available for customers, with new additions to the menu every month.
The café avoids additives and preservatives wherever possible, using only the freshest of ingredients, often locally sourced and moving with the seasons to avoid the carbon impact of unnecessary transportation. Soup-urb makes all its dishes from the ground up – even the mayonnaise is freshly made on site. And 'diet' versions of fizzy drinks are banned as they contain artificial sweetener aspartame, over which health concerns have been raised.
Soup-urb, already a favourite eatery for a devoted clientele in Royal Tunbridge Wells, opens for business in Brighton's North Laines at 87-88 Trafalgar Street on 20th August 2012 (on the site of former popular venue Café Nia). Not only will Soup-urb be catering for customers in the café, but it will also be providing an outside events service as well as on-premises business lunches.
From Tuesday 14th of August, look out for Soup-urb staff who will be roaming Brighton with tasty samples of the café's mouth-watering dishes for customers to try. They are easily spotted in their bright pink t-shirts emblazoned with the Soup-urb name.
And from opening day on 20th August, right through until the 30th September, Soup-urb customers in Brighton will be able to take advantage of the café's superb(!) opening offer – a fantastic two-for-one deal on the café's £5 soup/sausage-roll/drink combination.
Soup-urb has proved extremely popular with customers not only because it stimulates the taste buds, but also for its warm and friendly atmosphere and great prices. Delicious, nutritious Soup-urb is eagerly anticipating looking after its new customers in Brighton.
Ends
For press enquiries, please contact:
Matt Howell – Lindsell Marketing
matt@lindsellmarketing.com tel: 0207 4020510