BridgeHead's Independent Clinical Archive selected to consolidate, protect and share players' medical images
ASHTEAD, UK – 22 January 2019 – Southampton Football Club has selected BridgeHead Software's Independent Clinical Archive (ICA), HealthStore™, to assist the long-term consolidation, protection and secure sharing of its players' medical images. In turn this will support the club's clinicians in assessing injuries, collaborating on player rehabilitation and developing education and injury prevention strategies.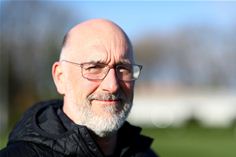 Dr Steve Baynes, Director of Medical Services - Southampton Football Club
The need for fast and easy access to players' data was driven by the club's medical team who sought a solution that allowed them to work individually or as part of a multi-disciplinary team when examining and comparing medical images, such as ultrasounds and MRIs. HealthStore will provide a central repository for all players' medical images enabling club medical staff and authorised hospital specialists to access and view that data, when and where they need to, securely, on any approved device.
Dr Steve Baynes, Southampton Football Club's 1st team doctor said: "Being able to access, view and collaborate with my medical colleagues, wherever they might be around the world, means that quicker diagnostic and treatment decisions can be made for our players and can reduce their time away from the pitch."
"It's also important for the medical team to have a full view of players' information when carrying out pre-signing medicals or monitoring serious injuries over a period of time. BridgeHead's HealthStore will allow us to easily compare scans showing progression or improvement and, ultimately, make rehabilitation recommendations that positively impact player recovery and performance."
HealthStore replaces a time-consuming and manual image storing process. The new BridgeHead solution will not only allow Southampton Football Club to effectively centralise and manage their players' medical images, ensuring regulatory, compliance and governance obligations are met; but it will also provide robust protection and security of that data, utilising encryption as well as the ability to carefully control access to authorised personnel.
Dr Baynes continued: "Southampton Football Club is focused on ensuring the best possible care for its players. So, it's key that medical images are consolidated, stored, secured and made readily available for the clinical team. BridgeHead has a proven track record in providing clinical services for healthcare organisations, and elite sports organisations such as the English and Wales Cricket Board (ECB). Not only did BridgeHead listen to and understand what we wanted to achieve, but they were committed to developing the right solution for our needs."
Jim Beagle, CEO of BridgeHead Software, said: "Increasingly elite sports teams are recognising the challenges associated with rising levels of disparate medical data often spread throughout an organisation and its associated partners. Good-quality data management not only improves privacy, security and compliance, but it also drives innovation. We're delighted to be working with a premier league football team, like Southampton Football Club, who is taking action to bring together its players' medical images in order to maximize performance, as well as equipping the medical team with technology that helps them to deepen their understanding of injury prevention and rehabilitation."
[ENDS]
About BridgeHead Software
With 20 years' experience in data and storage management, BridgeHead Software is trusted by over 1,200 hospitals worldwide. Today, BridgeHead Software helps healthcare facilities overcome challenges stemming from rising data volumes and increasing storage costs while delivering peace of mind around how to store, protect and share clinical and administrative information.
BridgeHead's Healthcare Data Management solutions are designed to work with any hospital's chosen applications and storage hardware, regardless of vendor, providing greater choice, flexibility and control over the way data is managed, now and in the future. For more information, visit http://www.bridgeheadsoftware.com or follow on Twitter at @BridgeHeadHDM.
For more information
Visit http://www.bridgeheadsoftware.com
Follow the BridgeHead Software blog
Follow us on Twitter
Follow us on LinkedIn
Like BridgeHead Software on Facebook
Follow BridgeHead Software on Google+
BridgeHead Software Media Contacts:
UK and EMEA
Bryony Cox
Mantis PR
Mobile: + 44 7860 951 092
Email: bryonycox@mantispr.co.uk