A ground-breaking way to fund international space projects, which makes space exploration available to the public, is launching today (January 24) during the World Economic Forum in Davos, Switzerland.
A community-led crowdfunding platform run by Spacebit, under the watchful eye of a team of consultants, astronauts, engineers and rocket scientists, will enable the public to vote on large scale space exploration projects.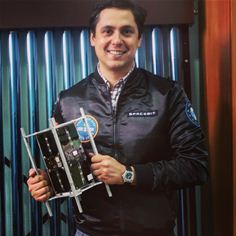 Pavlo Tanasyuk, founder of Spacebit
The Spacebit Foundation has been developing and building an ecosystem to allow people and small enterprise to take advantage of recent giant leaps in launch technology and satellite platforms for five years, and has already gained support from top scientists, industry leaders and public figures.
Today marks the launch of a new platform, on which the public can participate and financially support future space missions.
Spacebit has strong, existing financial backing from venture capital. From now on and for the first time, individuals can fully and financially participate in the project, becoming part of this new space community. Once launch costs are met, Spacebit will begin the next exciting stage of its vision: The first publicly crypto-funded space mission.
Pavlo Tanasyuk, founder of Spacebit explains: "The future of space exploration is currently reliant on Governments and commercial investors. However, with available public money for space exploration on an inevitable decline, we believe that individuals and private stakeholders will become the new space pioneers, and blockchain technology can make it happen. We believe that technologies like blockchain and a new kind of crowdfunding, using cryptocurrency, is the future of space exploration."
"Our ultimate goal is a mission to the Moon, but first we aim to launch a satellite within the next year. Launching a satellite will prove that community funded missions are viable and will ensure that the future of space exploration can be privately funded. Once the doors to space are open – the possibilities are endless. But you have to get involved, to find out more about our funding community and be a part of open space exploration."
Spacebit will propose several missions to its community of participants. The missions to the Moon are currently being developed and will include a lunar drone mission to explore the volcanic caves and to put a radio telescope on the back side of the moon using a rover and utilising a lunar orbiting satellite to relay the data back to Earth.
Apollo 15 Lunar Command Module Pilot, Col. Al Worden commented on Spacebit's plans to put telescope on the Moon: "Since my flight in 1971, I've commented many times, that the back side of moon would be a perfect place to put a telescope, in order to observe more of our universe."
Spacebit is a unique space company with offices across the globe. Spacebit is changing the way large space projects and missions are funded. Its ultimate goal is to democratise space exploration, unshackled by state or national sponsorship, which allows everyone to participate in the future of humanity in our universe.
For more information or to join the Spacebit community visit, www.spacebit.com.
Founders of Spacebit are in Davos for the launch which takes place at 22.00 on January 24 at the Hub Culture Pavilion, Promenade 93, 7270 Davos Platz, Switzerland. Interviews and a Q&A sheet are available on request.
Additional Media events:
Thursday 25 January at 12:30, Hub Culture Davos Pavilion Promenade 93, 7270 Davos Platz, Switzerland with Spacebit Founder and Astronaut
ENDS
Notes to editors
This news release has been prepared by Cream, for further information, images or to arrange interviews call 0113 335 0750 or email info@creamconsultancy.co.uk
ABOUT SPACEBIT
Spacebit brings involvement in space access and space exploration to ordinary people by using blockchain technology to crowdfund large space projects. It not only enables a new way to fund space exploration, but also acts as a conduit between people and exciting new space projects.