Patented image enhancement technology transforms TV viewing for colour-blind people
Cambridge, 1 December 2014, Spectral Edge (www.spectraledge.co.uk) today announces that its Eyeteq image enhancement technology is now available for integration into consumer set top boxes (STBs). By adding Eyeteq as an option in the Accessibility menu, consumer electronics manufacturers and service providers will be able to offer a dramatically improved TV viewing experience to the estimated 4% of the world's population that suffers from colour blindness.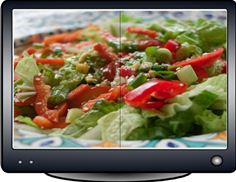 Spectral Edge TV
Eyeteq allows colour-blind viewers to better differentiate between red and green when watching programmes, allowing them to see details they previously could not. It does this with minimal impact on the picture that is seen by those who do not have colour blindness, or "colour normals", enabling both to watch the same screen together.
Based on research from the University of East Anglia (UEA), Eyeteq uses mathematical perception models to modify image colours, so that the 8% of men and 1 in 200 women around the world that are colour blind enjoy improved visibility when viewing both still and moving images. There are estimated to be around 250 million colour-blind people worldwide.
With Eyeteq enabled, content streamed to a set top box is enhanced on a frame by frame basis before being then transmitted to the TV screen. Programmes which contain a large amount of red and green in their images, such as sports, cookery and nature, are particularly enhanced.
Proving the concept, Spectral Edge has successfully integrated Eyeteq into a STB from a major manufacturer, with deployment taking just a few weeks. For a demonstration of the technology operating on a STB contact Spectral Edge here: http://www.spectraledge.co.uk/contact-us.
"Our Eyeteq technology has been proven to enhance the still image viewing experience for colour-blind people, and we are now extending this to TV and video content," said Christopher Cytera, Managing Director, Spectral Edge. "Service providers and set top box manufacturers can see the benefits in increasing accessibility to colour blind viewers, and Eyeteq provides the perfect solution for the living room TV screen. Our trials have proved the concept, and it is now ready for integration into prime time consumer technology in order to transform how colour-blind people, and their families, watch TV.
A demonstration app for Eyeteq on iOS or Android can be downloaded from here: http://eyeteq.spectraledge.co.uk/try-it
About Spectral Edge
Formed in February 2011, Spectral Edge is a spin-out company of the Colour and Vision Group of the School of Computing Sciences at the University of East Anglia in Norwich (United Kingdom). It operates from offices in Cambridge and Norwich.
Spectral Edge technology enhances images and video by using information outside the normal visible spectrum or applying transformations to that within it. Applications range from medical imaging and surveillance all the way to consumer applications such as enhancing camera images and TV pictures.
Website: http://www.spectraledge.co.uk/
Pictures & Media Pack: http://www.spectraledge.co.uk/about/media-pack
LinkedIn: https://www.linkedin.com/company/spectral-edge-ltd/
Facebook: https://www.facebook.com/SpectralEdge
Twitter: @SpectralEdgeLtd
Email: pr@spectraledge.co.uk
For more information:
Chris Measures (PR for Spectral Edge)
+44 7976 535147
chris@measuresconsulting.com