Demonstrates innovative video personalisation technology on IPTV set top box at OTTtv World Summit
Cambridge, and London, UK, 7 November 2016: Multiple studies have shown that blue light can reduce melatonin production, resetting body clocks and making it difficult to sleep after watching TV or using tablets/laptops. To combat this issue, Spectral Edge (www.spectraledge.co.uk) today announced Nighteq, its new image enhancement technology that helps viewers get a good night's sleep by reducing the amount of blue light coming from TVs, tablets and computer screens, whilst maintaining contrast and picture quality.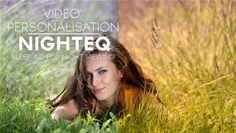 Nighteq
Nighteq will be shown at the OTTtv World Summit in London between 8-10 November 2016, alongside Spectral Edge's existing Eyeteq video personalisation technology, which makes TV accessible for the 4% of the world's population that suffers from colour-blindness. Eyeteq enables them to differentiate between colour combinations they struggle to see allowing them to access and enjoy content they previously could not. Both Eyeteq and Nighteq will be demonstrated on production IPTV set top boxes – they can also be delivered through the cloud to existing consumer hardware, and by Spectral Edge IP cores within chipsets.
Also at the show, Christopher Cytera, Spectral Edge's Managing Director and Professor Jonathan Freeman of i2 Media Research will present on the theme of video personalisation, and the opportunities this offers to operators to differentiate themselves from the competition. Their session, "Enhancing TV Viewing for Colour-Blind People" will take place at 16:55 on 8 November 2016 as part of the main speaking agenda.
"Research demonstrates the impact that evening viewing has on sleep patterns –Nighteq provides operators with a simple way to reduce blue light without impacting picture quality or the overall viewing experience, therefore helping to guarantee a better night's sleep," said Christopher Cytera, Managing Director, Spectral Edge. "Alongside our Eyeteq technology for enhancing the experience of colour-blind and colour-deficient viewers, it demonstrates the opportunities that video personalisation offers to operators who want to improve the service they offer to their subscribers and to reach out to new ones."
Nighteq and Eyeteq are the first two products based on Spectral Edge's Phusion image enhancement technology, developed by Spectral Edge following its spin-off from the University of East Anglia. Further developments in the consumer, computational photography and security markets will be announced soon.
"Delivering the best possible user experience is central to consumers watching – and paying for – content on their TVs, tablets and PCs," said Professor Jonathan Freeman, Professor of Psychology & Managing Director, i2 Media Research. "Operators should therefore look to focus on their user experience, collecting empirical evidence from test groups of consumers and using this feedback to improve and enhance the services that they offer."
-ends-
About Spectral Edge
Formed in February 2011, Spectral Edge is a spin-out company of the Colour Group of the School of Computing Sciences at the University of East Anglia (United Kingdom). It operates from offices in Cambridge.
Spectral Edge Phusion technology enhances images and video by using information outside the normal visible spectrum or applying transformations to that within it. Applications range from computational photography, security and consumer applications such as enhancing TV pictures to improve content accessibility.
Website: http://www.spectraledge.co.uk/
Pictures & Media Pack: http://spectraledge.co.uk/media-pack
Facebook: https://www.facebook.com/SpectralEdge
Twitter: @SpectralEdgeLtd
Email: pr@spectraledge.co.uk
For more information:
Chris Measures (PR for Spectral Edge)
+44 7976 535147
chris@measuresconsulting.com