Premieres colour blindness and night viewing solutions at forthcoming CSUN Assistive Technology Conference
Cambridge, UK, 21st February 2017, Image fusion technology leader Spectral Edge, (http://www.spectraledge.co.uk) today launched its Phusion video personalisation technology on the Android platform. This makes its Eyeteq colour blindness and Nighteq night viewing solutions available to carriers and manufacturers creating and deploying Android-based products such as tablets, smartphones, and set top boxes.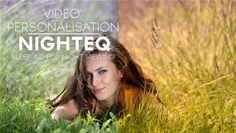 Nighteq
Eyeteq and Nighteq will be demonstrated on both an Android tablet and a commercial IPTV set top box from Antik Technology at the 2017 CSUN Assistive Technology Conference, from March 1st to 3rd in San Diego, California, USA. The largest event of its type, it showcases innovative technologies that help those with disabilities.
Over 4% of the world's population suffers from colour-blindness and Eyeteq enables them to differentiate between colour combinations that they struggle to see, allowing them to access and enjoy content they previously could not. Nighteq image enhancement technology helps viewers get a good night's sleep by reducing the amount of blue light coming from TVs, tablets and computer screens, whilst maintaining contrast and picture quality.
Built on years of academic research backed by visual preference trials, Spectral Edge aims to improve the viewing experience of images, videos and TV content by delivering the perfect picture for each individual viewer. This is done with patented image fusion technology which can combine visible and invisible information in real-time on consumer devices, to enhance detail, aid visual accessibility, and create ever more beautiful pictures.
"At Spectral Edge we are committed to making our assistive technologies available on the widest possible range of platforms," said Christopher Cytera, Chief Operating Officer, Spectral Edge. "The Android operating system has seen tremendous growth in the smartphone, tablet and set top box markets. By launching our colour blindness and night viewing solutions on Android we are confident that we can further improve the experience of the millions of people who have visual impairments which affect their ability to watch television and other video content."
The launch of Eyeteq and Nighteq on Android further lowers the barrier to the deployment of these assistive technologies. They are already available as software for commercial IPTV set-top boxes, as well as hardware for licensing to chipmakers or accessory vendors. Eyeteq and Nighteq on a global, open platform will enable PayTV and telecoms operators to more easily help subscribers who need assistance with viewing colour-dependent content or with sleep-related disorders.
-ends-
About Spectral Edge
Spectral Edge Ltd. aims to improve the viewing experience of images, videos and TV content by delivering the perfect picture for each individual viewer. The company's Phusion technology enhances images and video by using information outside the normal visible spectrum or applying transformations to that within it. Applications range from smartphone computational photography, augmented reality, security and enhancing TV pictures to improve content accessibility. It was spun out of the Colour Group of the School of Computing Sciences at the University of East Anglia (United Kingdom) in March 2014, and received £1.5 million funding in 2016. It operates from offices in Cambridge, UK.
Website: http://www.spectraledge.co.uk/
Pictures & Media Pack: http://spectraledge.co.uk/media-pack
Facebook: https://www.facebook.com/SpectralEdge
Twitter: @SpectralEdgeLtd
Email: pr@spectraledge.co.uk
For more information:
Chris Measures (PR for Spectral Edge)
+44 7976 535147
chris@measuresconsulting.com