Optimized for retail, Versity features best-in-class voice quality, barcode scanner, application integration and durability with a consumer smartphone look and feel
LONDON, UK – March 12, 2018 – Spectralink, a leader in enterprise mobility solutions, today announced the Versity purpose-built smartphone designed for the modern retailer. The new solution combines best-in-class call quality, enterprise features and an application ready platform within a slim, durable and lightweight device.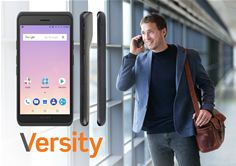 Versity
Versity enterprise smartphones help retailers achieve greater productivity and increased customer loyalty by integrating with retail collaboration tools and applications - providing sales associates with real-time inventory, order fulfilment and customer data in a secure, reliable and compliant manner.
"With in-store shopping still accounting for 90% of total retail sales, retailers are focusing on transforming their physical stores into high touch customer experience centers, while expanding their omni-channel capabilities," notes David Krebs, executive vice president of VDC Research. "The use of enterprise smartphones helps meet these demands by creating new customer touchpoints that bring a rich variety of personal, interactive and contextual experiences not previously available in the store."
"To compete with the convenience and ease of use of on-line purchasing, modern retailers are equipping employees with mobile devices and applications that empower them to elevate the customer experience ensuring strong store traffic," said Doug Werking, chief executive officer for Spectralink. "By deploying custom and 3rd party retail applications on Versity, retailers can deliver enhanced in store experiences that grow sales through higher customer satisfaction."
Engineered to support modern retailers with a sleek, consumer-like smartphone design and having models weighing as little as 204 grams, Versity is easily operated with one hand. It includes a 5.2-inch, high resolution display, providing retail associates with superior text and image clarity – even in low light conditions. Other features include:
Unrivaled mobile call quality
Superior wi-fi performance, noise suppression and echo cancellation
Available LTE option for workers on the go
Industrial barcode scanner
True hot swappable batteries to minimize interruption
Safe mode to support lone and remote workers
Google certified for access to the broadest range of applications
Durable form factor with chemical-resistant, IP-68 rated enclose
"Implementing solutions that give store associates access to critical workflow information and the real-time data that improves productivity, allows retailers to deliver an exceptional customer shopping experience," notes Andrew Duncan, vice president, product and technology solutions for Spectralink. "The Versity smartphone serves as the core technology for application solutions that drive a retail stores competitiveness and brand, while providing new opportunities to improve store efficiencies."
Versity will be available mid-summer 2018.
About Spectralink
Spectralink leads the enterprise mobility market with industry's most deployed mobility solution portfolio optimized for mission-critical healthcare, retail, manufacturing and hospitality applications. As the enterprises transition to mobile workflows, Spectralink is at the forefront of the industry transformation through its innovative end-to-end mobility portfolio. Designed for challenging RF environments, our mobile solutions enable enterprises to streamline their workflows and deliver a positive customer experience. To protect our customers' investments in UC platforms, we offer the best interoperability in the industry with the leading call control platforms. Since 1990, Spectralink has deployed millions of mobile devices worldwide – providing enterprises with the industry's most reliable, high quality and secure mobility solutions. For more information, please visit http://www.spectralink.com/.
Media Contact:
Jeremy Douglas
Catapult PR-IR
303-581-7760, ext. 16
jdouglas@catapultpr-ir.com