Polish your knuckledusters and suit up as the hugely anticipated Android version of The Bitmap Brother's classic game is now available on Google Play
London, UK - 2 July 2012 - Tower Studios and Vivid Games today announced that the much anticipated Android version of the classic futuristic smash 'em up sports game, Speedball 2 Evolution, is now available on Google Play for mobiles and tablets. Speedball 2 Evolution brings its unique fusion of sports, humour and brutal combat to millions of Android gamers after having enjoyed huge success on iOS where it reached the top ten in over 69 countries, hitting the number 1 slot in 21 of them.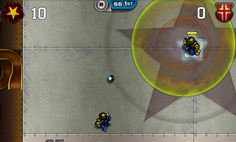 Speedball game play 1
Set in the near future, Speedball 2 Evolution is a fast paced, brutal fusion of handball and ice hockey where only the fittest and most cunning survive. Players must carefully plan their strategy then hand pick their team from a roster of over 300 upgradeable players and 28 teams, before taking to the field using every trick in the book to power their way to victory through a mix of blood, sweat, fists and elbows. Speedball 2 Evolution is packed with a huge variety of game modes and features to keep players coming back for more, including over 20 in-match power-ups, single player tournaments, one-on-one multiplayer and a full career mode. Outside of the matches, gamers can also develop a world beating team by upgrading their players, earning cash and then trading them on the transfer market.
The Speedball series is in its twenty-fourth year, having created a massive following and goes from strength to strength on mobile, "Ever since its launch on iOS, we've had thousands of requests to bring Speedball 2 Evolution to Android devices. We're pleased to be answering the wishes of so many fans and absolutely thrilled to finally be bringing the series to Android" said Remigiusz Koscielny, CEO of Vivid games.
"Speedball is one of the truly classic games" adds Jon Hare, creator of the Sensible Soccer series and Tower Studios CEO "Speedball 2 Evolution is just as appealing to the new generation of gamers as it is to veteran players of the original."
Speedball 2 Evolution brings together its unbeatable heritage with high octane, in-depth gameplay to give Android gamers an experience like never before and is now available for immediate download on Android handsets and tablets across all global Google Play stores.
GAME FEATURES:
Choose from 336 unique players and 28 Teams across 4 Planets

Over 20 power-ups available

Multiple game modes including 10 Season Career Mode and 10 Single Player Game Modes

Full Player transfer market and upgrades

Choice of intuitive tilt and virtual joystick controls

Multiplayer mode (Wi-Fi and Bluetooth)
Speedball 2 Evolution is available now priced £1.99/$1.99/€2.44
***ENDS***
Speedball 2 Evolution on Google Play
https://play.google.com/store/apps/details?id=com.vividgames.speedball2&hl=en
Watch the video online: http://youtu.be/DozIZXLMU64
**Note to editors** Media assets including screenshots and video are available from http://speedball2evo.appromoter.com or can be downloaded from http://bit.ly/Nb3QvV . The trailer can also be downloaded from http://bit.ly/OEs8EE
About Tower Studios
Tower Studios is a games IP publishing, licensing and development company owned by Jon Hare, former director of cult British development team Sensible Software.
www.tower-studios.com
About Vivid Games
Vivid Games is one of Europe's premier emerging independent development studios, with a passion for accessible and engaging gaming at the heart of its philosophy. Founded in 2006, Vivid Games is making a valuable contribution to the worldwide games development community. Vivid Games has become renowned for its specialization in cross-platform development, working both with licensed brands and exciting new IPs of its own. www.vividgames.com
Media Contact
For review code and more information please contact
Valentina Ciolino
dimoso
valentina@dimoso.com
+44 (0) 207 033 2660