November 18, 2010 – Kodak and C Cube Solutions today announce that Merseyside-based St Helens & Knowsley Teaching Hospitals NHS Trust has won public sector project of the year at the prestigious UK IT Industry Awards 2010.
The UK IT Industry Awards provide a platform for the entire profession to celebrate best practice, innovation and excellence. In total, the awards feature 24 categories which cover: project, organisation, technology and individual excellence. The categories are open to organisations and individuals involved in IT across the public, not for profit and commercial sectors.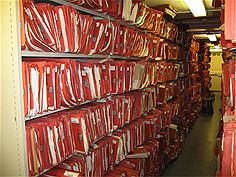 Old records library
The Trust is the first in the NHS - as far as is known - to stop using paper health records in operational practice having installed an electronic document management system (EDMS) from C Cube Solutions, with Kodak scanners, throughout its whole health economy to provide authorised healthcare professionals computer-based access to patients' medical files at the point of care.
The award was won after fierce competition in the category, with judges recognising what a superb example this project is of a change programme led by the Trust's CEO, Ann Marr, with support from the board who had a clear vision of what it wanted to achieve, namely the eradication of a cumbersome and costly paper process to improve services and guarantee the quality and safety of patient care.
Dr Francis Andrews, consultant in critical care/emergency medicine and clinical director for critical care at the Trust, explains, "Doctors throughout the NHS often have to make decisions about patient care without necessarily having all their background history available which obviously represents a safety issue. If we have seen a patient previously, we can offer the right treatment based on past medical history as we have all their details instantly available on screen. It's one of the most innovative and revolutionary solutions I have seen in 20 years of clinical practice."
In other words, the system allows doctors to make better and more informed decisions about the appropriate care for patients, and ensures that patients – for example - don't have to be admitted for exploratory tests because notes were not immediately available. Similarly communication with patients and their families is enhanced, with clinicians able to access the system via secure VPN links which improves team working and productivity.
The system utilises a customised and bespoke built version of C Cube Solutions' EDMS, with Kodak high performance i660 and i780 document scanners used to digitise paper files and cope with the substantial scanning volumes required. To date, 41.3 million pages have been scanned equating to around 134, 389 medical records.
The solution took 22 months to roll out with will all 27 hospital departments now 'live', and 500 clinicians and 130 medical secretaries trained and using the system day-to-day.
A scan-on-demand approach has been adopted whereby the total medical file of a person coming into hospital is digitised and made available in outpatient clinics, hospital wards and operating theatres. C Cube Solutions designed a customised portal which clinicians interact with to view the patient's history and which has been modified over time – based on staff feedback - to speed up access and scrolling through information.
The system was created by the Trust's informatics service, under the leadership of the director, Neil Darvill, and in close partnership with C Cube Solutions. It cost £1.2 million.
While the primary driver behind the project was patient safety and care, operational costs will substantially reduce with the Trust expecting to save of £1.4 million annually by closing its traditional paper library, redeploying staff and avoiding the transportation costs associated with moving 7,000 patient files every week to various physical sites in the Trust's geographical area.
Full auditing of who accesses files is provided which improves security, with the system replicated across two data centre sites to ensure resilience and availability. In comparison with the old paper process, security of sensitive patient information has therefore been markedly improved.
Given the informatics service provides a shared IT service to the local health economy comprising primary and secondary care, in time access to patient files will be provided as necessary to those that require it. At the moment, GP access is being trialled, with it expected that by April 2011, all 92 GP practices will be provided access to hospital files of the patients they look after locally.
The UK IT Industry Awards are rigorously judged and as a result truly celebrate innovation and best practice in IT today.
Neil Darvill, director of informatics said, "We're absolutely delighted to win. While health records might a first appear prosaic, you just can't deliver a safe and quality medical service for people without them. The award demonstrates recognition for what we have been working diligently to do and that is deliver a fast system to access them, crucial as we look after hundreds of thousands of people year in year out."
David Clarke, chief executive officer of BCS, The Chartered Institute for IT, said, "This has been another exceptional year for the Awards, with winners drawn from a wide range of industries, once again highlighting that IT is truly embedded in our society and brings tremendous benefits to all aspects of life from industry, healthcare through to entertainment and security.
As the Chartered Institute for IT, we offer our congratulations to all those who took part and in particular, the medallists and winners. To qualify as a finalist is terrific; to win is an absolutely fantastic achievement in these highly contested Awards."
- ENDS -
About C Cube Solutions
C Cube Solutions, formerly trading as OITUK, is a specialist provider of electronic document management & workflow solutions that encompass imaging, electronic document and records management, workflow, electronic forms, portal-based business applications and collaboration facilities.
C Cube Solutions has an extensive track record working with organisations in local government, health, financial services and commerce. Visit www.oituk.com for further information.
About Kodak
As the world's foremost imaging innovator, Kodak helps consumers, businesses, and creative professionals unleash the power of pictures and printing to enrich their lives.
To learn more, visit www.kodak.com and follow our blogs and more at www.kodak.com/go/followus.
More than 75 million people worldwide manage, share and create photo gifts online at KODAK Gallery--join today at www.kodakgallery.com.
Choose from the widest selection of Kodak digital cameras, all-in-one inkjet printers, pocket video cameras and more at http://store.kodak.com.
For further information, please contact
Tom Herbst
Tom Herbst PR
T:07768 145571
Email: tom@tomherbstpr.co.uk