£1.4 million per annum saved ongoing as the Trust aims to close its records library by 2014

Trust planning to become 'paper free' not just 'paper light'
November 12, 2010 – C Cube Solutions announces that Merseyside-based St Helens & Knowsley Teaching Hospitals NHS Trust has completed a pioneering project to deliver health records electronically using its C Cube electronic document management software (EDMS), integrating with Kodak document scanners.
The Trust has migrated away from a labour intensive and unsustainable paper process and is the first Trust in the UK – as far as is known - to stop using paper records in operational practice.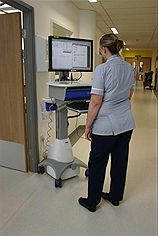 Nurse using new electronic patients record system
This landmark initiative provides instant access to health records, enhances patient safety through 100% records availability, improves clinical effectiveness and saves money. Secure and simple to use, the system has the full support of users, is built on standards-based not propriety technology, and provides future expandability.
All 27 hospital departments have now gone 'live' – following a 22 month roll out - with over 500 clinicians and 130 medical secretaries now trained to use it.
The Trust can now guarantee that the correct patient file is available when needed, irrespective of location, which could not be achieved with the old paper process given the logistics involved in moving 7,000 records every week for 349,285 outpatients visits annually. With 90,000 new patients registered every year this quantity was expanding exponentially.
The Trust has invested £338 million to rebuild its two hospital sites. St Helens Hospital opened to patients in October 2008, and the new Whiston Hospital in April 2010. Electronic records are integral to delivering excellent patient care in world-class facilities.
While this project is primarily about improving patient safety and care, £1.4 million per annum will be saved ongoing as the Trust aims to close its records library in 4 years (2014). All paper files will be dispensed with and storage facility will not be required. The cost savings are greater than first imagined. In the original business case, the Trust expected to save over £3.2 million over a 5 year period from an investment of £1.2million.
This is because not as many records as first thought will need to be scanned. When the project started, it was expected that 671,800 records would be scanned over 5 years. To date, 134,389 complete records have been digitised equating to over 41.3 million pages.
The Trust has to keep standard records for an eight year period - the mean age of each is four years – after which files can be destroyed. The Trust is therefore scanning records required, destroying those which are not, with the library therefore shrinking faster than was originally envisaged as new files are not being added.
The C Cube Solutions EDMS installation is unique in the NHS for two reasons:
First, scan-on-demand has been adopted where medical records for patients coming into the hospital are scanned, with the EDMS used to deliver them. The Trust is digitising live files only. It rejected scanning the whole library of 700k files each containing on average 350 pages. A study estimated it would take 10 full time staff 30 years to do it - too time consuming with no patient value added.
All staff involved in paper records have been moved from the library to its scan-on-demand department to form a team of 52 people.
Kodak i660 and i780 high performance production scanners digitise the paper files and cope with vast daily scanning volumes. Bar coding is used to indicate that a new patient file is being scanned and/or to scan into different chapters.
Second, a bespoke portal for the system was created by C Cube Solutions to make the project clinically viable. This is the first time this has been done in the NHS. It offers a single, simple and safe point of access to view and access records so that the treating clinician can see the patient's medical history.
The screen displays information for instance patient name, appointment time, last doctor's letter, and has a range of links (virtual chapters) into the EDMS so that a clinician can easily delve into the patients' medical history.
Duplicated information and department-based repositories have been removed, with the system integrating with other IT solutions like the Patient Administration System which has minimised unnecessary development work or duplication of technology.
The EDMS runs on four clustered HP servers with all patient data (over 14TB) stored on two HP SANS, backed up to tape and optical disc to ensure robust disaster recovery.
At the beginning of the project, the Trust started with health records for outpatient clinics only, but over the past year, has extended it to ward admissions and use in-theatre. This means that every patient coming into hospital is now seen using the system and paper records are not delivered anymore.
In terms of rollout, new departments could only be bought online step-by-step. On average, patients revisit outpatient clinics three times per condition. While it takes time and resources to scan a patient's file for the first visit, for the second and third visits there is no staff overhead to prepare files as they are already available electronically. Over time, the paper-based library is therefore reduced, with staff then free to scan other departments' records.
While other health providers have failed to implement EDMS solutions successfully, the Trust has ensured that this massive business change programme has worked. This has been achieved through: executive and board level sponsorship; proper financial resourcing; careful system design; and thorough engagement and consultation with all stakeholders. This meant that the implementation was not done "to" them but "with" them.
In addition, highly capable project managers have made extensive effort with communication, engagement and support to avoid staff becoming disenfranchised, disconnected and refusing to accept change.
Neil Darvil, the Trust's director of informatics, says, "This is a significant campaign and a long journey where you need the whole organisation from records staff to executives, the Trust board and clinicians all lined up, signed up to agreed common objectives, with proper communication to achieve success. It's not a quick fix solution where you can just implement new IT, sit back and expect acceptance. It's tough to do."
In addition to the financial ROI, the impact of the new system has been significant as follows:
Patient risk is greatly reduced because all medical history is available at the point of care – guaranteed.

Admissions from the A&E department have reduced as clinicians now have instant access to scanned notes thus avoiding admitting people unnecessarily.

Appointments can be made at short notice and patients can see several specialists per visit because case files are accessible.

Multidisciplinary teams meetings are easier and can be done over the phone or via a PC rather than everyone having to physically meet to share one file.

Less complaints are made. Historically, 40 per annum were received specifically around records from individuals sent home because doctors had not received files on time.

The portal has been systematically developed to make navigation quicker based on clinical feedback. This has included: two page views, bookmarking, thumbnails, clinic and ward views and hiding blank pages.

The system has been enhanced so that all patient correspondence is now produced in C Cube including ad hoc letters whereas previously it was only correspondence related to clinic visits. The Trust has avoided buying and integrating other software to do this.

Moving forward the Trust is planning to develop the EDMS system by adding direct data entry capabilities to turn it into a fully-fledged Electronic Patients Records system. Today the Trust is "paper light", moving forward, it will be "paper free." The first pilot will start before Christmas 2010.

Access to the system will be extended to GPs and other primary care professionals via a voice and data network which interconnects 340 sites in Merseyside. A consultation process is underway with the project team anticipating making this available in 2011.
Vijay Magon, C Cube Solutions' managing director, says, "This project is an impressive advert for the NHS and actually what can be achieved when IT truly delivers and is aligned with organisational goals. The Trust has invested in brand new multi million pound facilities, with e-health records playing a key part in delivering world-class patient care. Real-time access to information using a scan-on-demand approach has ensured a better clinical experience through 100% case notes availability."
David Whitton, Kodak's EMEA sales manager, northern cluster, says, "Much has been reported in the press about the Government wishing to make patient medical histories available online. The Trust can deliver this today without doing anything significantly extra – the hard part of getting all data on patients in an electronic format has been done and is available now."
- ENDS -
About C Cube Solutions
C Cube Solutions, formerly trading as OITUK, is a specialist provider of electronic document management & workflow solutions that encompass imaging, electronic document and records management, workflow, electronic forms, portal-based business applications and collaboration facilities.
C Cube Solutions has an extensive track record working with organisations in local government, health, financial services and commerce. Visit www.oituk.com for further information.
About Kodak
As the world's foremost imaging innovator, Kodak helps consumers, businesses, and creative professionals unleash the power of pictures and printing to enrich their lives.
To learn more, visit www.kodak.com and follow our blogs and more at www.kodak.com/go/followus.
More than 75 million people worldwide manage, share and create photo gifts online at KODAK Gallery--join today at www.kodakgallery.com.
Choose from the widest selection of Kodak digital cameras, all-in-one inkjet printers, pocket video cameras and more at http://store.kodak.com.
For further information, please contact
Tom Herbst
Tom Herbst PR
T:07768 145571
Email: tom@tomherbstpr.co.uk