London, U.K., 08 March 2018 – Ascertus Limited, a provider of document and information lifecycle management solutions to law firms and corporate legal departments, has strengthened the existing support team with the appointment of Ben Salisbury as Technical Consultant. Distinctive about this appointment is the hybrid role that Salisbury takes on to provide consulting services to customers, in addition to technical account management and solution implementation support.
"Increasingly, customers are turning to us for strategic consultancy with regard to technology adoption. With Ben's appointment, we have both reinforced our technical expertise to accommodate the growth in our customer base, as well as bolstered our consulting arm. He is a great fit for our business – he has a good understanding of the products we offer and brings with him sound experience in the legal industry," Roy Russell, CEO of Ascertus Limited, said.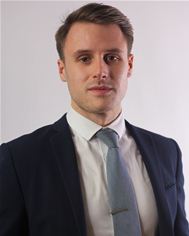 Ben Salisbury, Ascertus Limited
Salisbury has first-hand experience of implementing and supporting iManage Work implementations in law firms. In this role, he will be working closely with the pre-sales and sales teams to help devise technology projects that are tailored to organisations' individual business requirements. Prior to Ascertus, he held positions at another iManage Partner, BoxIt and Admiral.
"The offer was too good to turn down," Ben Salisbury, Technical Consultant at Ascertus Limited, commented. "Ascertus is a growing business and well-respected organisation in the industry. This current role, which combines consulting and technical account management, is a great opportunity for me to grow professionally."
About Ascertus Limited
Ascertus provides information and document lifecycle management consultancy, software solutions and IT support services to law firms, corporate legal departments and other professional services organisations. Based in Central London, the company offers a full range of professional services – from consultancy, business analysis and project management; to software implementation, training, documentation and technical support – delivering bespoke email, contract and document management solutions in on-premises and privately hosted environments. The company has successfully delivered and managed some of the largest iManage Work installations at customer sites in the UK. For more information, visit: http://www.ascertus.com/. Follow Ascertus on Twitter and LinkedIn.
Media contact:
TagusPR
Vidushi Patel
vidushi@taguspr.co.uk
+44 7958474632