At mPOS World 2014 (24 - 25 June, Frankfurt, Germany), international POS printer manufacturer Star Micronics will be exhibiting an extensive range of mPOS printing solutions. Star has a number of dynamic partners who have successfully integrated Star's innovative printing solutions and who will be demonstrating their solutions with Star at mPOS World.
Star is at the forefront of new mPOS and web-based POS hardware development with the largest range of printing solutions offering simple integration with all major operating systems. With dedicated MFi (Made for iPad®, iPhone® and iPod Touch®)  Apple™, Android™ and Windows™ Bluetooth mobile printers and TSP654IIBTi Bluetooth desktop printer as well as specialised SDKs to allow simple set-up with all major platforms including Apple iOS™, Android™, Windows™ and Linux, Star offers a wide range of options.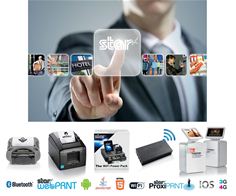 Star mPOS Printing Solutions
With connectivity key in today's tablet world, Star provides the largest choice of HTML and JavaScript Internet printers allowing easy, low cost installation for receipt, label and ticket printing. Offering a low cost hardware or software networking solution, Star's WebPRNT™ effectively removes the issues usually associated with web-based printing to provide driverless printing capabilities for all receipt data, utilising HTML and JavaScript standards to provide consistent browser printing. Star WebPRNT supports all standard receipt requirements including logos, barcodes etc and is available as a low cost plug-in interface or tablet bridge software that provides the ability to print to either Ethernet, USB, WiFi or Bluetooth printers from a web based app.  In addition, this solution offers a number of receipt design marketing tools alongside a full range of printer functions including cutter control, cash drawer support and device status. 
Providing remote access of POS peripherals based on the physical proximity of the tablet or smartphone device being used, Star's new ProxiPRNT™ enables the salesperson to automatically select and print to a nearby printer as well as ensure that a cash drawer can only be opened wirelessly if the salesperson is standing next to it.  Based on BLE (Bluetooth low energy) technology, Star's ProxiPRNT works with both iOS and Android devices and provides a low cost, flexible solution that is easy to integrate and implement for any mobile POS application.
From hardware and software solutions to a range of accessories including a unique WiFi Power Pack for low cost WiFi printing directly from tablets, PCs or any mobile device directly to a Star LAN printer and DK-AirCash mobile cash drawer accessory, Star provides reliable low cost printing solutions for today's cloud and tablet-based POS systems. 
Building on its range of POS peripherals, Star has developed a number of superwhite cash drawers that are sized to meet all requirements, including a small model for the mPOS market and internal space allocation for Star's DK-AirCash peripheral designed to make any RJ11 traditional cash drawer wireless.
As Simon Martin, Director & General Manager, Star Micronics EMEA, states, "Star prides itself on its position as a manufacturer of pioneering mPOS printing solutions.  The wide range of customers currently using Star illustrates the successful adoption of our mPOS solutions in a variety of retail and hospitality environments.  With an ever growing range of low cost yet innovative hardware and software printing solutions Star will continue to drive and shape tomorrow's rapidly evolving mPOS marketplace."    
Background Information on Star Micronics
Founded in 1947, Star Micronics is one of the world's largest printer manufacturers and has facilities for worldwide production, marketing and support. Employing over 2600 staff and achieving turnover in excess of £270 million, Star Micronics has developed a POS printer portfolio that spans thermal and dot matrix printers and mechanisms, designed for barcode, ticketing, receipts and labelling.  Star's proven technology is also being utilised to develop reader/writer systems for visual/smart and magnetic stripe cards and to install print mechanisms in multimedia kiosk environments. The Star Micronics' range is available internationally via a distribution channel comprising distributors and dealers.
-oOo-
For further information, please visit www.star-emea.com or contact:
Annette Tarlton
Marketing Director
Star Micronics EMEA
Tel: +44 (0)1494 471111
Email: Atarlton@Star-EMEA.com
Claire Smith
International PR & Marketing Executive
Star Micronics EMEA
Tel: +44 (0)1494 471111
Email: Csmith@Star-EMEA.com