High Wycombe, UK, 29 April 2019 At RetailEXPO 2019 (1 - 2 May, Olympia London), international POS printer manufacturer Star Micronics will be demonstrating how its latest POS, mobile and Cloud-based POS innovations have been successfully integrated by a number of software and payment partners on Stand 5E10.
The broad spectrum of partners that have selected Star's extensive range of unique and innovative solutions confirms its position as the POS printer manufacturer of choice for so many software and payment providers as well as kiosk manufacturers today.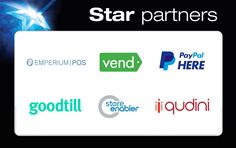 Partners joining Star at RetailEXPO 2019
Partner applications that will be demonstrated include mobile payment solutions, an adaptable and agile platform that removes the complexities and time needed to deploy new in-store experiences, a cloud-based customer experience management platform and cloud-based point-of-sale and inventory management software.
The partners that will be joining Star are:
Emperium POS
Emperium POS, a global software provider, has consistently transformed the way the retail and hospitality sectors empower their businesses in the technology-driven world of tomorrow. With over 18 years of experience we always take advantage of future tech in order to grow ourselves and our customers. www.emperiumpos.com
Goodtill
Goodtill's POS system is one of the most complete systems on the market; it combines Advanced Stock, Loyalty, Click & Collect, Staff management, numerous high profile integrations and many more features on a sole platform. The intuitive system is continuously improving through the release of new features and a 24/7 support line to help customers navigate a changing business landscape. www.thegoodtill.com
PayPal Here – Cashless, Contactless, Seamless.
PayPal Here is the easy way to get paid in person. Accept quick, secure card and contactless payments (including Apple Pay and Android Pay) without monthly fees or a fixed term contract. With the PayPal Here portable card reader and app, you can get paid wherever you do business. A simple, yet flexible solution integrated with a range of leading point of sale providers. www.paypal.co.uk/here
PMC
PMC is the market leading provider of digital and cost transformation IT services to the retail sector. Store Enabler from PMC helps retailers transform their in-store experience through its adaptable and agile platform that removes the complexities and time needed to deploy new in-store experiences. Store Enabler future-proofs investments allowing you flexibility to change hardware, operating system and payment provider without having to re-implement the solution or buy new software. Store Enabler is powering in-store retail solutions for leading eye care, duty free and cinema entertainment providers. www.pmcretail.com
Qudini
Qudini is a cloud-based customer experience management platform that enables retailers to reduce customer walkouts, increase conversions and optimise efficiencies within the store environment through its array of appointment and event booking, virtual queue, click and collect and request assistance solutions. www.qudini.com
Vend
Vend is the leading cloud-based point-of-sale and inventory management software for retailers in the UK. Over 20,000+ retailers worldwide love Vend and use it to effortlessly sell, manage, report and grow in every way. Vend integrates with world-class partners including Xero, iZettle, Shopify and is a key retail partner in Apple's global Mobility Partner Program. www.vendhq.com/uk
As Simon Martin, Director & General Manager, Star Micronics EMEA states: "We are pleased to have such a wide variety of partners joining us at RetailEXPO 2019. By providing excellent SDKs and working closely with our growing number of software and payment partners, Star is able to ensure that a broad range of its solutions are successfully integrated."
Background Information on Star Micronics
Founded in 1947, Star Micronics is one of the world's largest printer manufacturers and has facilities for worldwide production, marketing and support. Employing over 1900 staff and achieving turnover in excess of £250 million, Star Micronics has developed a POS printer portfolio that spans thermal and dot matrix printers and mechanisms, designed for barcode, ticketing, receipts and labelling. Star's proven technology is also being utilised to develop reader/writer systems for visual/smart and magnetic stripe cards and to install print mechanisms in multimedia kiosk environments. The Star Micronics' range is available internationally via a distribution channel comprising distributors and dealers.
-oOo-
For further information, please visit www.Star-EMEA.com or contact:
Claire Smith
PR Manager
Star Micronics EMEA
Tel: +44 (0)1494 471111
Email: Csmith@Star-EMEA.com