High Wycombe, UK, 1 March 2016 Star Micronics announces that it has enhanced the functionality of its latest Bluetooth mobile printers SM-S230i and SM-L200. Star now offers BLE (Bluetooth Low Energy) connectivity for iOS users of the SM-L200, enabling multi-tablet use capability, while both printers are now supported by Star's WebPRNT™ Browser. This solution offers simple platform agnostic receipt printing direct from web based applications and is available on the App Store and Google Play. These solutions will be on display on the Star stand at Retail Business Technology Expo, London (9 - 10 March, Stand 310).
From queue busting to mPOS receipting in retail and hospitality, the SM-S230i provides seamless mPOS transactions with an 80mm per second print speed, 13 hour battery life and automatic sleep mode. Compatible with iOS, Android, Windows or Linux mobile devices, its small lightweight design, easy "Drop-In and Print" paper loading and 1.5m drop test capability as well as informative LED light display indicating battery life and Bluetooth connection offers the ideal solution for reliable, high performance printing on the move.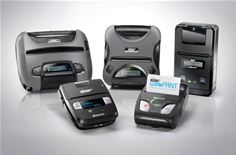 Star Micronics Bluetooth Mobile Printers
Alongside this model, the SM-L200 receipt / label printer provides a low cost connection to iOS, Android, Linux and Windows mobile devices. Featuring a 13 hour battery life, 35mm per second print speed, automatic sleep mode, LCD display and 1.2m drop test capability, the SM-L200 offers a reliable, low cost mPOS printing solution.
Beyond a low power usage and comparatively low price, the advantages of BLE technology include simple installation as no pairing or password is required between the mobile device and tablet. As a result, on battery depletion, tablets can be simply and easily changed thus facilitating multiple device and tablet use within a wireless environment.
Now available on the App Store and Google Play, Star's WebPRNT Browser simplifies tablet printing from the Web and supports all relevant web technologies. Using Star WebPRNT technology a single web-based application can be accessed by the Browser on iOS and Android and by the WebPRNT interface for all operating systems for desktop printing, yielding identical print output.
Annette Tarlton, Marketing Director, Star Micronics EMEA, states: "By enhancing the functionality of its latest Bluetooth mobile printers, Star reinforces its market leading position within the mPOS marketplace with solutions that embrace the very latest in POS technology."
Background Information on Star Micronics
Founded in 1947, Star Micronics is one of the world's largest printer manufacturers and has facilities for worldwide production, marketing and support. Employing over 1900 staff and achieving turnover in excess of £250 million, Star Micronics has developed a POS printer portfolio that spans thermal and dot matrix printers and mechanisms, designed for barcode, ticketing, receipts and labelling. Star's proven technology is also being utilised to develop reader/writer systems for visual/smart and magnetic stripe cards and to install print mechanisms in multimedia kiosk environments. The Star Micronics' range is available internationally via a distribution channel comprising distributors and dealers.
-oOo-
For further information, please visit www.Star-EMEA.com or contact:
Annette Tarlton
Marketing Director
Star Micronics EMEA
Tel: +44 (0)1494 471111
Email: Atarlton@Star-EMEA.com
Claire Smith
PR Manager
Star Micronics EMEA
Tel: +44 (0)1494 471111
Email: Csmith@Star-EMEA.com