High Wycombe, UK, 28 March 2018: International POS printer manufacturer Star Micronics announces the launch of its new and unique CloudPRNT-POS™ solution that allows retailers to benefit from Tablet POS with complete USB peripheral control from a web-based application on any device with a browser.
Tablet POS offers the advantages of versatile Cloud-based software alongside compact, low cost hardware. However, it has one disadvantage which is no connected peripheral control. Recognising this, Star has developed a solution that allows Cloud-based software to run on any tablet or smartphone (Windows, Android, Linux or iOS) with peripherals controlled through the printer to provide a complete POS transactional solution with all the advantages of Tablet POS.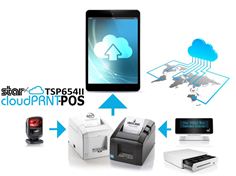 Star CloudPRNT-POS
The new Star TSP654II CloudPRNT-POS can be used as a hub providing IP connectivity via wired Ethernet or WiFi with peripheral support, by means of 2 USB host ports with full status back. Star's SCD222 customer display, 1D / 2D (Symbol) barcode scanners and cash drawers are the preferred peripherals and can be purchased via Star's distributors.
Connecting the Star printer and device to the same network creates a complete and connected Tablet Point of Sale application that is easily accessible across any Internet enabled device.
"Star is proud to provide this new and innovative solution that means Tablet POS is now viable for all retailers who can take advantage of not only hardware cost savings but also the flexibility of cloud-based software. Cloud-based software peripheral management was out of reach for many retailers but, once again, Star's innovation has created a cost-effective solution", states Annette Tarlton, Marketing Director, Star Micronics EMEA.
About Star Micronics
Founded in 1947, Star Micronics is one of the world's largest printer manufacturers and has facilities for worldwide production, marketing and support. Employing over 1900 staff and achieving turnover in excess of £250 million, Star Micronics has developed a POS printer portfolio that spans thermal and dot matrix printers and mechanisms, designed for barcode, ticketing, receipts and labelling. Star's proven technology is also being utilised to install print mechanisms in multimedia kiosk environments. The Star Micronics' range is available internationally via a distribution channel comprising distributors and dealers.
-oOo-
For further information, please visit www.Star-EMEA.com or contact:
Annette Tarlton
Marketing Director
Star Micronics EMEA
Tel: +44 (0) 1494 471111
Email: Atarlton@Star-EMEA.com
Claire Smith
PR Manager
Star Micronics EMEA
Tel: +44 (0)1494 471111
Email: Csmith@Star-EMEA.com