High Wycombe, UK, 21 February 2018: At EuroCIS 2018 (27 February - 1 March, Messe Düsseldorf, Germany), Star Micronics will be demonstrating the future of POS connectivity with pioneering solutions from leading software partners Aecora, bitbakers (Flour.io), INVENTORUM, iZettle and Pickware on Stand 9/A14.
Star offers a range of flexible solutions that can easily be upgraded as your POS system evolves. From complex retail systems to a simple pop-up setup, Star has the expertise and wealth of experience to provide a tailored cost-effective solution. Leading the field in traditional and tablet POS with the very latest Cloud, Bluetooth and wireless countertop and mobile printing solutions, Star's customers range from small independent operators to major fast food chains including McDonald's.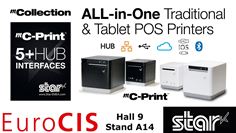 Star Micronics at EuroCIS 2018
Continually pioneering solutions that seamlessly combine sophistication with high functionality, Star's new mC-Print 2™ and mC-Print 3™ aesthetically match the sleek, modern design of tomorrow's retail environment and provide the retailer with feature-rich, front-feed compact printers that offer exceptional functionality. With a print speed up to 250mm/second, the printers can feature all of the following interfaces in one model: Ethernet LAN; Bluetooth (MFi); traditional USB; lightning USB (data and charge USB for iOS) and CloudPRNT™ as well as Hub functionality for more than one peripheral; scanner, customer display, etc.
Star's aesthetic design offers high functionality for a variety of environments. In particular, the soft operating switches and 'protected' control boards allow the printers to operate efficiently in difficult or harsh environments.
Faced with the challenge of rising paper costs, Star's thin paper support and choice of 80mm and 58mm print width with ECO tools help retailers to economise on paper usage and reduce environmental impact. And, with easy Ethernet / static IP address setup using the Star Utility (Native) via USB, installation costs are kept to a minimum.
Incorporating Star's Cloud Services with digital receipting and Internet device management mC-Print offers retailers the next generation of POS printer that boasts a wealth of onboard marketing and receipt tools with reduced cost installation for tomorrow's multichannel world.
The latest addition to the renowned TSP100 futurePRNT™ series is the unique TSP143IIIU - the only USB receipt printer today to communicate and charge simultaneously and directly via the Apple supplied lightning cable with an iPad, iPod or iPhone for reliable USB communication. This printer removes the insecurity of wireless connection and seamlessly combines the flexibility and cost savings of tablet POS with the reliability of traditional POS.
Star's success with the undoubtedly large number of ISVs has been achieved via its attention to detail regarding SDKs and documentation enabling easy integration. Star's experience is that many software solutions already work with the TSP143IIIU whilst others can easily integrate with the new SDK, knowing that it covers all products in the renowned TSP100 range. The TSP100 Series will remain the principal tablet POS printer series of choice due to its vast connectivity models including Bluetooth and WLAN.
Demonstrating Star's focus on connectivity, retailers can today purchase a Star TSP654II with a traditional interface in the knowledge that it is future-proofed for whatever cloud strategy the retailer wants to adopt and provides an easy, affordable upgrade by simply replacing the traditional interface with the HI X interface. The interface can also be used with other Star printer models that offer 80/112mm label, ticket and receipt printing - TSP743II and TSP847II as well as SP700 matrix printer. Alternatively, the TSP654II HI X Connect receipt printer is ready for the Cloud with the interface built in. Both solutions offer intelligent printing for modern Cloud hospitality applications and, in particular, online ordering.
A number of software partners have integrated the cost-effective all-in-one tablet POS solution, mPOP™. A unique combined Bluetooth printer and cash drawer mobile point of purchase station mPOP is low cost and lightweight at just 10cm high and 30cm wide with a sleek design. With the POPPack option that includes a high quality black or white tablet stand (alternative colours are available if required) and metal plate, users can successfully create a stylish mPOS station. The POPPack design provides a flexible option with the extra security required within a busy retail environment, whilst retaining the mobile element. This provides the ability to securely store or transport the mPOS station at the end of trading.
Building on its extensive range of Bluetooth and WiFi mobile printers, Star has recently introduced the easy-to-use SM-L300 with OLED display. Uniquely featuring Bluetooth 4 (BLE) connectivity as well as Classic Bluetooth, the SM-L300 is able to connect with multiple Apple iOS devices. Alongside receipts, this 80mm printer can print variable width traditional and liner-free re-stick labels from 40 to 80mm wide and also features reflective (black mark), transmissive and paper end sensors. Designed to work from a person's belt with a 41 hour battery life or using the 5V counter top cradle charger, this versatile printer ticks all the mobility boxes and can even be charged using a micro USB cable.
"The retail landscape is rapidly evolving", states Annette Tarlton, Marketing Director, Star Micronics EMEA. "While traditional POS solutions have the usual important role to play we are witnessing a distinct shift towards tablet POS solutions. Star has developed an extensive portfolio that responds to these market changes. In particular, the unique mC-Print and TSP143IIIU printers are true game changers that allow retailers of all sizes to benefit from the very latest tablet POS technology."
About Star Micronics
Founded in 1947, Star Micronics is one of the world's largest printer manufacturers and has facilities for worldwide production, marketing and support. Employing over 1900 staff and achieving turnover in excess of £250 million, Star Micronics has developed a POS printer portfolio that spans thermal and dot matrix printers and mechanisms, designed for barcode, ticketing, receipts and labelling. Star's proven technology is also being utilised to install print mechanisms in multimedia kiosk environments. The Star Micronics' range is available internationally via a distribution channel comprising distributors and dealers.
-oOo-
For further information, please visit www.Star-EMEA.com or contact:
Annette Tarlton
Marketing Director
Star Micronics EMEA
Tel: +44 (0) 1494 471111
Email: Atarlton@Star-EMEA.com
Claire Smith
PR Manager
Star Micronics EMEA
Tel: +44 (0)1494 471111
Email: Csmith@Star-EMEA.com