High Wycombe, UK, 12 April 2017: International POS printer manufacturer Star Micronics today announces the opening of its new German Branch Office in Frankfurt in April 2017.
Over the financial year 2015-2016, Star Micronics EMEA experienced a 16.5% growth in the number of units sold. This growth was achieved by Star spearheading the new mobile POS market trend with the largest range of counter and portable mPOS printing solutions. With innovation at the forefront of Star's new product development, the manufacturer has carved a leading position in the marketplace with a range of unique products that have truly shaped the POS industry.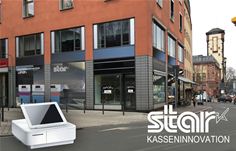 Star Micronics opens German Branch Office
Star has attacked the market at every level developing successful partnerships with a number of start-ups as well as larger players. All this has been achieved from its EMEA headquarters in the UK with experienced Sales Managers based locally across the EMEA region and a clean sales channel operating purely via distribution partners.
The next logical step and natural progression for Star is investment in the German market and, more recently, the Brexit decision has reinforced this stance. Given the current economic turmoil in the world's economies, Star's 16.5% unit growth over the 2015-2016 financial year was more than satisfactory. With this Branch Office, Star expects to see sales increase further over the coming years.
Star has always made a name for itself, being the first where others have followed. Indeed, Star was the first POS manufacturer to develop an ECO POS printer, a Bluetooth MFi POS printer as well as provide all set-up accessories in the box, free-of-charge marketing tools, 4 year warranty, etc. Therefore, true to form, Star is not just opening a Branch Office, but is being innovative in terms of its format and layout with the aim to create a unique and informative means of demonstrating retail innovation at the core of the German market.
Located in the heart of Frankfurt in a traditional retail environment amongst other retail outlets, Star will be opening a showroom that will have a range of mPOS partner software solutions on display. These will be demonstrated and sold by a number of our software partners. Visitors will be able to compare and purchase software solutions while hardware purchases can be made via our usual distribution partners across Germany.
The Branch Office and partner showroom will be opened in 60311 Frankfurt, Kornmarkt 6 by Morihito Suzuki who has over 30 years POS printing and retail experience. He will be managing the Branch Office with a team of sales and administration personnel.
As Morihito Suzuki states: "I look forward to opening this dramatically different Branch Office and showroom in the heart of Frankfurt, Germany. This location was chosen for its central position within Europe and will allow visitors from many countries to experience first-hand Star's hardware solutions being demonstrated by a number of our leading software partners."
Simon Martin, Director & General Manager, Star Micronics EMEA, adds: "Having achieved strong market growth in recent years it is a logical step for Star to expand its presence within Europe and, alongside a number of our German software partners, display a wide range of mPOS solutions. This reflects Star being the primary POS manufacturer chosen for its innovative solutions and the ease with which Star products can be integrated."
Background Information on Star Micronics
Founded in 1947, Star Micronics is one of the world's largest printer manufacturers and has facilities for worldwide production, marketing and support. Employing over 1900 staff and achieving turnover in excess of £250 million, Star Micronics has developed a POS printer portfolio that spans thermal and dot matrix printers and mechanisms, designed for barcode, ticketing, receipts and labelling. Star's proven technology is also being utilised to install print mechanisms in multimedia kiosk environments. The Star Micronics' range is available internationally via a distribution channel comprising distributors and dealers.
-oOo-
For further information, please visit www.Star-EMEA.com or contact:
Annette Tarlton
Marketing Director
Star Micronics EMEA
Tel: +44 (0)1494 471111
Email: Atarlton@Star-EMEA.com
Claire Smith
PR Manager
Star Micronics EMEA
Tel: +44 (0)1494 471111
Email: Csmith@Star-EMEA.com