High Wycombe, UK, 29 November 2016: International POS printer manufacturer Star Micronics is pleased to announce that its SM-L200 mobile printer has been selected by iZettle to provide London's licensed taxi drivers with a TfL approved card payment bundle that offers a range of key features and benefits. Following the requirement for taxi drivers to accept card and contactless payments as well as provide receipts for those payments upon request, iZettle has partnered with Star to provide the following bundle:
iZettle Card Reader Pro Contactless
Star SM-L200 Bluetooth receipt printer
Card reader mount for passenger compartment
Receipt printer mount for driver compartment
With iZettle Card Reader Pro Contactless, taxi drivers can accept all major credit cards (including American Express) as well as contactless payments through Apple Pay, Google Wallet and others. For receipting, the super compact lightweight SM-L200 Bluetooth printer from Star offers a high print speed, LCD display and 1.2m drop test capability. Beyond a low power usage, the advantages of BLE technology with this printer include simple installation given its auto pairing facility with multiple Bluetooth 4.0 Apple iOS devices.
As Annette Tarlton, Marketing Director, Star Micronics EMEA, states: "Star is delighted to be partnering with iZettle to provide London's licensed taxi drivers with a reliable and cost effective card payment and printing bundle."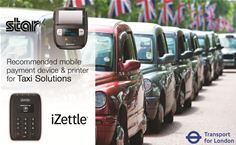 Star SM-L200 Bluetooth Receipt Printer and iZettle Card Reader
Background Information on Star Micronics
Founded in 1947, Star Micronics is one of the world's largest printer manufacturers and has facilities for worldwide production, marketing and support. Employing over 1900 staff and achieving turnover in excess of £250 million, Star Micronics has developed a POS printer portfolio that spans thermal and dot matrix printers and mechanisms, designed for barcode, ticketing, receipts and labelling. Star's proven technology is also being utilised to install print mechanisms in multimedia kiosk environments. The Star Micronics' range is available internationally via a distribution channel comprising distributors and dealers.
-oOo-
For further information, please visit www.Star-EMEA.com/taxi or contact:
Annette Tarlton
Marketing Director
Star Micronics EMEA
Tel: +44 (0)1494 471111
Email: Atarlton@Star-EMEA.com
Claire Smith
PR Manager
Star Micronics EMEA
Tel: +44 (0)1494 471111
Email: Csmith@Star-EMEA.com