High Wycombe, UK, 2 May 2017: International POS printer manufacturer Star Micronics announces the launch of its new and unique TSP143IIIU printer - the only receipt printer solution today to communicate and charge simultaneously and directly with an iPad or iPhone, removing the insecurity of wireless connection.
Star has always led where others have followed when it comes to mobile tablet POS, pioneering change within the POS printing industry by partnering with undoubtedly the largest selection of tablet POS software houses and integrators today. Recognising the distinct shift towards Apple iOS POS solutions in recent years within retail and hospitality, Star has responded by providing a solution that seamlessly combines the flexibility and cost savings of tablet POS with the reliability of traditional POS.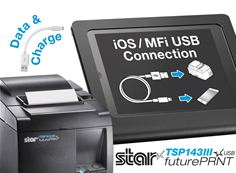 Star Micronics launches unique TSP143IIIU printer
Managing a large estate of multiple tablets and paired Bluetooth devices means that it can be operationally difficult to maintain the right connection between the right peripherals and devices. The TSP143IIIU changes all this. As well as working with a traditional POS terminal, this printer can connect directly to an iPad or iPhone using the Apple supplied lightning cable for reliable USB communication as opposed to previous iOS wireless only technologies. As a result, the usual Bluetooth or WiFi / wired LAN set-up issues around pairing, network infrastructure, connectivity etc. are eliminated from a hardware perspective. No other stand-alone POS printer can achieve this.
Simplicity itself, the iPad / iPhone can talk directly to the printer just as a USB printer talks to a traditional terminal. This unique printer will now allow multisite operators to make blanket decisions across their estates by providing the reliability required in high volume transactions and environments where wireless communication is difficult. At the same time, independent operators can now benefit from the flexibility and lower operating costs associated with tablet POS in the knowledge that connection will be maintained at all times.
Star's success with the undoubtedly large number of ISVs has been achieved via Star's attention to detail regarding SDKs and documentation enabling easy integration. Star's experience is that many software solutions already work with the TSP143IIIU whilst others can easily integrate with the new SDK, knowing that it covers all products in the renowned TSP100 range. The TSP100 Series will remain the principal tablet POS printer series of choice due to its vast connectivity models including Bluetooth and WLAN, while the TSP143IIIU in particular is the only USB printer on the market today that can communicate directly with Apple devices.
"The TSP143IIIU from Star is a game changer for retail and hospitality", states Simon Martin, Director and General Manager, Star Micronics EMEA. "By revolutionising POS terminal device choice, Star is leading the field in allowing retailers and restaurateurs of all sizes to fully benefit from the flexibility and cost savings of tablet POS alongside the reliability of traditional POS."
About Star Micronics
Founded in 1947, Star Micronics is one of the world's largest printer manufacturers and has facilities for worldwide production, marketing and support. Employing over 1900 staff and achieving turnover in excess of £250 million, Star Micronics has developed a POS printer portfolio that spans thermal and dot matrix printers and mechanisms, designed for barcode, ticketing, receipts and labelling. Star's proven technology is also being utilised to install print mechanisms in multimedia kiosk environments. The Star Micronics' range is available internationally via a distribution channel comprising distributors and dealers.
-oOo-
For further information, please visit www.Star-EMEA.com or contact:
Annette Tarlton
Marketing Director
Star Micronics EMEA
Tel: +44 (0) 1494 471111
Email: Atarlton@Star-EMEA.com
Claire Smith
PR Manager
Star Micronics EMEA
Tel: +44 (0)1494 471111
Email: Csmith@Star-EMEA.com