'EMEA Distributor of the Year' & 'EMEA Excellence for Training'
Thursday, 11th October 2018 - UK - StarLink, the fastest growing "True" Value-Added-Distributor (VAD) in the Middle East, Turkey and Africa (META) region announced receiving two prestigious awards: 'The EMEA Distributor of the Year Award' and 'The EMEA Excellence for Training Award' by Palo Alto Networks at an esteemed awards ceremony during their Annual Partner Summit in Toronto, Canada.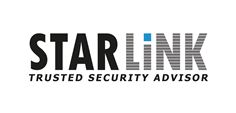 StarLink logo
StarLink's partnership with Palo Alto Networks as its VAD commenced in 2015 and with a focused and comprehensive expert Sales & Presales team across MEA, StarLink has supported Palo Alto Networks extend their reach on-the-ground across the region. This alliance has been instrumental in propelling Palo Alto Networks Next-Generation Firewall solutions and in aligning their focus and expertise with StarLink's vision of a preventative approach to cyber threats.
Palo Alto Networks Global Awards reflects recognition of top performing partners in different geographical regions for rising up to the professional challenges, successfully accomplishing their global business objectives, for achieving operational excellence and driving value to enterprises. Currently StarLink is VAD for Palo Alto Networks in the MEA region however, this recognition was from amongst distributors at the EMEA level.
Mahmoud Nimer, General Manager, StarLink accepted the award at the conference. "We are very proud to have received not one, but two awards this year – especially since we were ranked, and chosen from all the Distributors at the EMEA level. This is reflective of our commitment and the value Palo Alto Networks have entrusted on us." He added, "We look forward to investing more into this relationship with StarLink's extensive channel network and expertise and thank Palo Alto Networks for their continued support and appreciation."
About StarLink
StarLink is acclaimed as the largest and fastest growing "True" Value-added Distributor across EMEA with on-the-ground presence in 16 countries worldwide. With its innovative Security Framework, StarLink is also recognised as a "Trusted Security Advisor" to over 2200 enterprise and government customers that use one or more of StarLink's best-of-breed and market-leading technologies. Sold through its channel network of over 1000 Partners, the StarLink Solution Lifecycle helps channel partners differentiate offerings. Assisting customers to identify key risks and define priorities for addressing IT Security gaps relating to compliance and next-generation threat protection.
For more information about StarLink, please visit www.starlinkme.net
Press Contact:
Mary Aji | Director, Marketing
StarLink
T: +971 4 2794000
E: mary@starlinkme.net
W: www.starlinkme.net