Manchester, UK - Worldwide thin client supplier, VXL, launches its latest IQ-L desktop cloud-clients with an impressive 1.58GHz Intel Baytrail-M Celeron Dual Core processor with Turbo boost up to 2.25 GHz.
Introduced in response to a growing need for enhanced entry-level desktop performance, the IQ-L series handles a broad range of multimedia applications and is the ideal choice for users who need to run several applications at once.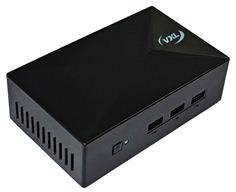 VXL IQ-L Series
Available with Windows Embedded 8 Standard (WE8S), Windows 10 IoT Enterprise and Gio6 Linux operating systems, the IQ-L series also supports leading industry protocols including Citrix HDX, VMware Horizon View and Microsoft RDP.
Frank Noon, VXL's VP Worldwide Sales commented; "Our new IQ-L series puts VXL very much at the forefront of the highly competitive entry-level sector". "Not only is it the ideal solution for task and knowledge users, it's also one of the lowest cost and best value desktops available today" he added.
With a powerful performance, provided by its on board 32GB Flash / 4GB RAM (WE8S and Windows IoT) and 8GB Flash / 2GB RAM (Gio6 Linux), the highly specified IQ-L series boasts Gigabit networking, three USBs (1 x 3.0 and 2 x 2.0), HDMI and VGA ports, Intel HD graphics processor and optional Wi-Fi and Bluetooth.
Benefiting from a space saving design and small footprint, the lightweight, 0.45Kg IQ-L series also includes a free of charge VESA mounting bracket for attaching to the rear of a monitor.
The IQ-L series come with a three-year warranty and include VXL's Fusion Professional device manager software solution as standard.
Ends
About VXL
Established in 1976, VXL is a truly global company and is a world leader in both thin client hardware and software development.
With a 40-year history, VXL Technology offers one of the widest range of thin and cloud client devices that support the industry's leading protocols including VMware View Horizon, Citrix HDX and Microsoft RDP.
VXL Software supplies innovative software solutions to SMB's and enterprises worldwide including its class-leading Fusion UDM Premium universal device manager, Illumineye Digital Signage suite and CloudDesktop PC repurposing software.
This dedication to thin client hardware and leading software solutions is at the core of what VXL represents today together with a passion to support organisations around the world to build efficient IT infrastructures that are flexible, secure, manageable and affordable.
VXL's corporate HQ and manufacturing is based in Bangalore, India's 'Silicon Valley', with the Americas Group HQ based in Houston, Texas and the European HQ in Manchester, UK. Dedicated Sales and Support offices are also based in key strategic markets including Germany, France, Singapore and United Arab Emirates.
For more information, please visit: www.vxl.net.
Contact: Ian Cope, VXL Instruments Ltd Tel: +44 (0161) 775 4755. Email: ian.cope@vxl.net
VMware and VMware Horizon View are registered trademarks or trademarks (The "Marks") of VMware, Inc. in the United States and/or other countries / jurisdictions. Citrix, Citrix Ready, StoreFront, HDX, XenApp and XenDesktop are trademarks of Citrix Systems, Inc. and / or one or more of its subsidiaries in the United States Patent and Trademark Office and in other countries. Microsoft is a registered trademark or trademarks (The "Marks") of Microsoft, Inc. in the United States and/or other countries / jurisdictions. Windows Embedded, Windows IoT and Linux logos are the registered trademark logos of Microsoft and Linux respectively