Pierre Cardin, one of the world's most famous fashion empires has launched a tablet computer that combines elegant design with user-friendly technology.
Created to meet the needs of brand-conscious technology users, the Pierre Cardin Tablet PC embodies the legacy of one of France's foremost fashion houses. Now in its sixth decade, Pierre Cardin's clientele include, among others, Lady Gaga and Nicole Ritchie.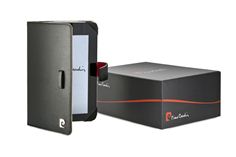 Pierre Cardin Tablet PC 1
"Tablet PCs are becoming an essential accessory for today's busy lives on the go. However, technology does not need to be cold and boring," said Kam Kothia managing director of the UK's sole distributor of Pierre Cardin Tablet PCs - eBusiness UK. "Pierre Cardin epitomizes the belief that great design can enhance everything from clothes and luggage to furniture and living spaces. We are delighted to be launching the first designer-branded tablet PC into the UK market. Following the successes of the Prada and Armani brands with their mobile phones, we strongly believe there is a strong market for our tablet PC."
The design and user interface of the Pierre Cardin Tablet PC is underpinned by high performance technology. It is powered by the ever-popular Android operating system, and is packed with a fantastic array of features.
Users can stay connected to friends and family through a wide range of messaging, social network and email options. To play games, take pictures or download films users can make the most of the HD output and extendable memory.
All this is supported by 3G and WiFi capability, a USB port, a multi-touch capacitive screen. Last but by no means least, the Pierre Cardin Tablet PC comes packaged in a tasteful case and an uber-cool black gift box.
The Pierre Cardin tablet PC is priced at £275. For further information, please visit http://www.pierrecardintabletpc.co.uk/
For more information contact:
Danielle Mumford / Peter Beck
E: PC@berkeleypr.co.uk
T: 0118 909 0909
About Pierre Cardin
Pierre Cardin is a leading designer of clothing, fragrances, furniture and technology. Since the 1960s, Cardin's cutting-edge, futuristic designs have continually broken new ground and established exciting trends. With international brand licensing across a variety of products and media, there are now more than 900 licenses in over 140 countries, employing more than 200,000 people under the Pierre Cardin trademark. In the UK and Eire, the Pierre Cardin tablet PC is exclusively distributed through eBusiness UK Ltd. For further information, please visit http://www.pierrecardintabletpc.co.uk/