Storage Options, Yorkshire's largest independent technology vendor, has launched the world's first personalised tablet for the under 25s market.
The miScroll, which retails at £119.95, is the fourth addition to the Scroll range, is the only tablet in the world to have a replaceable high capacity battery, which could come in handy on long journeys, late nights or during busy periods.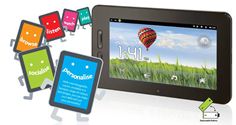 miScroll
With 4GB of internal memory and colourful exchangeable covers, which are available in a variety of vibrant colours and distinctive designs, the miScroll would make the perfect birthday present. Its features include a 1GHz ARM11 processor running on the Android 2.3 Operating System and built-in camera offering an expansive multimedia and social networking experience.
The tablet, which only weighs 370g, operates as an excellent portable multimedia hub thanks to the built-in mini HDMI port for Full HD output (1080p) and a mini USB port to connect handy peripherals like keyboard or even a powerful sound system.
Mark McCarter, brand manager for Storage Options comments: "We expect the miScroll to be really popular with the younger generation, due to its bright exchangeable covers and replaceable battery. We think the fact that people can personalise the look and feel of their tablet will really capture their imagination."
The tablet is available now for resellers exclusively from CCI Distribution. Consumers wishing to buy the tablet can find it on sale in Maplin, Amazon and Dabs.com. The replacement batteries and covers are sold separately with SRPs of £19.99 and £14.99 respectively. Review samples of the tablet are also readily available to the press on request.
As with all Storage Options products, the device is supplied with clearly-written and annotated manuals and is backed by a local-rate technical support phone line serviced by experts based in the UK.
- Ends -
About Storage Options
Storage Options is a contemporary Harrogate-based technology vendor, with an aim to deliver new technology without compromise to the consumer market. It offers its customers products with built-in quality, but without premium pricing.
The company's comprehensive range is characterised by ever evolving, feature-rich, high-performance products with distinctive designs. Storage Options aims to cultivate loyalty by engaging with and being honest with its customers; offering them a positive experience at all points of contact with the brand.
About CCI Distribution
CCI Distribution is a leading independent distributor of computer storage and peripherals to the consumer and business technology markets. It specialises in bringing the world's leading technology brands to the UK reseller market and is committed to helping vendors grow their brand awareness and reputation within the UK.
Headquartered in Harrogate, CCI has achieved significant growth since its formation in 1997. The company has been built on its impressive customer service record and ability to quickly embrace and adapt to changing market conditions, such as the rise of eCommerce and online trading.
CCI now offers more than 1,500 products from global manufacturers such as LG, Sony and Toshiba, while its customer portfolio includes leading retailers such as Amazon, Ebuyer and Maplins, as well as key B2B integrators and resellers including Dabs, Insight, Misco and Equanet.
Further information and news about CCI is available on their website: http://www.ccidistribution.co.uk. You can also follow CCI on Twitter or connect on LinkedIn.
Press Contact
Chris Norton or Vicky Finn
Prohibition PR
Direct Line: +44 (0)1423 520697
E-mail: chris@prohibitionpr.co.uk