The new Scroll Extreme to smash the UK tablet marketplace
Storage Options, the UK-based technology brand, has launched its fastest ever tablet PC and the world's most powerful tablet under £200 to use the Android 4.0 operating system and support the output of 3D content.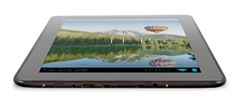 Scroll Extreme b
The new Scroll Extreme has been added to the popular and award-winning Scroll tablet portfolio. It is packed with a variety of innovative new features and is the cheapest high quality tablet of its type in the world, at only £189.99, initially exclusive with eBuyer.com and available to pre-order from 1st March.
Operating on Android's latest tablet operating system 4.0, commonly known as Ice Cream Sandwich, the Scroll Extreme delivers a smooth and intuitive user experience with a superior performance powered by its 1.2GHz Cortex A8 processor.
Paul Evison, Head of Brand for Storage Options commented: "The last few months have been truly staggering for us at Storage Options. We have been blown away by the support we have received for the Scroll Excel and we were obviously delighted when it was picked as The Gadget Show's favourite budget tablet back in November. We have always known that our customers wanted quick, slick and responsive devices that are packed with features, without the burden of a premium price tag and the Scroll Extreme really does deliver exactly that. This is the first tablet we have produced on the Android 4.0 operating system and the whole user experience is vastly improved and far more intuitive than previous versions of Android."
The new slim-line and lightweight aluminium unit boasts 1.2GHz Cortex A8 processor with Mali-400 dual core graphics processing and 1GB DDR3 RAM with 8GB Memory built-in and the ability to expand through a micro SD Card up to 32GB, making it easily the most powerful and fast Scroll ever created.
Paul adds: "Our development team are really proud of this device and I think our customers are going to be blown away at the standard we have achieved for such a low price. The user experience is really impressive on its 9.7 inch screen and the fact it supports Flash helps it to provide a much richer viewing experience all round."
The Android 4.0 operating system makes popular actions more visible and lets the user navigate with simple, intuitive gestures. An entirely new typeface optimised for high-resolution screens has improved readability and brings a more polished feel to the Extreme's interface. New virtual buttons in the system bar enable the user to navigate more easily. Multitasking has also been made easier and more visual.
With a 16-bit G-sensor, enabling the ten inch screen to rotate 360 degrees, teamed with Flash support and a responsive, capacitive touch screen, the Scroll Extreme is perfect for internet browsing, social networking, reading E-Books, online TV and video services.
The Scroll Extreme also has the ability, like its smaller cousin the Scroll Excel, to output 3D content directly to a 3D TV, or monitor, by downloading 3D content to the tablet and played back on a big screen through a mini HDMI cable. It will also output 1080p HD video content in the same manner.
The Scroll Extreme will be on sale from April, exclusively available for pre-order now with eBuyer.com. For more details go to the Storage Options or eBuyer.com websites.
As with all Storage Options products, these devices are supplied with clearly-written and annotated manuals and are backed by a local-rate technical support phone line serviced by experts based in the UK.
- Ends -
About Storage Options
Storage Options is a UK-based technology brand created with a vision of offering great value, high-performance products without compromising on quality or service.
Since Storage Options arrived in the UK in 2010, the brand has gone from strength to strength successfully growing its customer base and expanding its product portfolio into many new areas. The brand's aim is to deliver great products that meet expectations, offer exceptional value for money and provide the good service and support expected by UK customers.
Further information is available on their website http://www.storageoptions.com or you can follow Storage Options on Twitter and Facebook.
Press Contact
Chris Norton
Prohibition PR
Direct Line: +44 (0)1423 520697
E-mail: chris@prohibitionpr.co.uk