Packages include everything needed to start building parts
Frankfurt, 27th April 2012 - (Nasdaq: SSYS) Stratasys has announced it will offer bundled, complete 3D printing packages for its Dimension line of printers. Print Packs for the company's uPrint 3D printer line were previously introduced last year.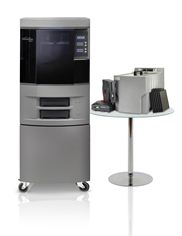 Dimension 3D Print Packs
The Dimension 3D Print Pack includes the 3D printer and everything needed to print parts, including startup supplies and a support-removal system. Purchase prices are USD (approx. £20,000) for the Dimension SST 1200es and USD $34,900 (approx. £22,000) for the Dimension SST 1200es.
"The Dimension 3D Print Packs offer a complete solution to begin building thermoplastic parts," says Stratasys Product Manager Mary Stanley. "Customers can purchase a system with the assurance that there will be no surprises or hidden costs."
The Dimension SST 1200es 3D Printer builds parts as large as (approx. 24.5 x 24.5 x 24.5 cm), while the Dimension Elite prints finely detailed models up to 8 x 8 x 12 inches (approx. 20.3 x 20.3 x 30.5 cm). In addition to the printer, the packages include:
- SCA-1200 Support Removal Tank
- 1 Cartridge Ivory Modeling Material
- 1 Cartridge Soluble Support Material
- 1 Case of either Ecoworks or WaterWorks cleaning agent
- 6 Modeling Bases
The Dimension 3D Print Packs are available through a global network of Stratasys resellers.
Dimension, a brand of 3D printers by Stratasys, offers computer-aided-design (CAD) users a low-cost, networked alternative for building functional 3D models from the desktop. The 3D printer builds models layer-by-layer using ABS plastic, one of the most widely used thermoplastics in today's injection-molded products. 3D printing allows users to evaluate design concepts and test models for form, fit and function. Online at: www.DimensionPrinting.com
Stratasys Inc., Minneapolis, is a maker of additive manufacturing machines for prototyping and producing plastic parts. The company markets under the brands uPrint and Dimension 3D Printers and Fortus Production 3D Printers. The company also operates RedEye On Demand, a digital-manufacturing service for prototypes and production parts. Stratasys manufactures 3D printers for Hewlett Packard, which it sells under the brand Designjet3D. In 2011 Stratasys acquired 3D printer maker Solidscape Inc. According to Wohlers Report 2011, Stratasys had a 41-percent market share in 2010, and has been the unit market leader for the ninth consecutive year. Stratasys patented and owns the Fused Deposition Modeling (FDM®) process. The process creates functional prototypes and manufactured goods directly from any 3D CAD program, using high-performance industrial thermoplastics. The company holds more than 285 granted or pending additive manufacturing patents globally. Stratasys products are used in the aerospace, defense, automotive, medical, business and industrial equipment, education, architecture, and consumer-product industries. Online at: www.Stratasys.com
# # #
FDM, Dimension, Fortus, uPrint and Stratasys are registered trademarks of Stratasys Inc.
Print Pack, Fused Deposition Modeling is a trademark of Stratasys Inc.
Attention Editors: If you wish to publish reader-contact information, please use: europe@stratasys.com; Telephone: +49 (0)69 420 9943 0, Fax: +49 (0)69 420 9943 33, www.stratasys.com. Forward Looking Statements
For more information please contact:
Lisa Henshaw
Fourth Day PR
+44 (0)20 7403 4411
lisa@fourthday.co.uk