Submissions due 2nd February
Frankfurt 12th January 2012 – (NASDAQ: SSYS) Stratasys Inc. today reminds students and educators that just three weeks remain to submit a design for its Dimension brand's eighth annual Extreme Redesign 3D Printing Challenge. The global contest encourages students to submit an innovative new product design, a redesign of an existing product, or an original work of art or architecture.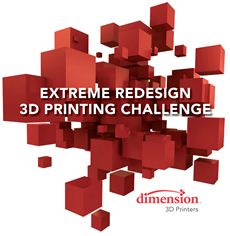 Logo
Educators worldwide have recognised the annual design and 3D printing contest for its positive impact on students. "We're encouraging students to participate in this opportunity to challenge their critical thinking skills and demonstrate their creativity," says Jesse Roitenberg, Stratasys education manager. "Every year we're impressed with the innovative submissions we receive. We look forward to seeing what students develop this year."
Dimension 3D Printing will award each of nine student winners $2,500 (approx. £1,630) or $1000 (approx. £650) scholarships in the categories of middle school and high school engineering, college engineering and art & architecture. Designs are awarded based on creativity, usefulness, part integrity and aesthetics. Instructors of the three first-place student winners will receive an Apple iPad for use in the classroom. With this year's awards, the contest will exceed the $100,000 (approx. £65,000) mark in scholarships granted since the contest's inception.
Each submission should:
be a sound mechanical design (Engineering category)
be realistic and achievable
include a clear written description of the design
This year's contest will also feature a bonus award category: Students who incorporate a school-spirit theme into their designs will have a chance to win a $250 (approx. £160) gift card.
For video, photos, and descriptions of previous winning designs, visit Extreme Redesign 3D Printing Challenge. For contest rules and regulations, visit ER Rules & Regulations.
Dimension, a brand of 3D printers by Stratasys, offers computer-aided-design (CAD) users a low-cost, networked alternative for building functional 3D models from the desktop. The printers build models layer-by-layer using ABS plastic, one of the most widely used thermoplastics in today's injection-moulded products. Dimension 3D printers allow users to evaluate design concepts and test models for form, fit and function. Online at: www.dimensionprinting.com
Stratasys Inc., Minneapolis, is a maker of additive manufacturing machines for prototyping and producing plastic parts. The company markets under the brands uPrint and Dimension 3D Printers and Fortus Production 3D Printers. The company also operates RedEye On Demand, a digital manufacturing service for prototypes and production parts. Stratasys manufactures 3D printers for Hewlett Packard, which it sells under the brand Designjet3D. In 2011 Stratasys acquired 3D printer maker Solidscape Inc. According to Wohlers Report 2011, Stratasys had a 41 percent market share in 2010, and has been the unit market leader for the ninth consecutive year. Stratasys patented and owns the Fused Deposition Modeling (FDM®) process. The process creates functional prototypes and manufactured goods directly from any 3D CAD programme, using high-performance industrial thermoplastics. The company holds more than 285 granted or pending additive manufacturing patents globally. Stratasys products are used in the aerospace, defence, automotive, medical, business and industrial equipment, education, architecture, and consumer-product industries. Online at: www.stratasys.com
# # #
Extreme Redesign is a trademark, and Stratasys, Dimension and FDM are registered trademarks, of Stratasys Inc.
Attention Editors: If you wish to publish reader-contact information, please use: europe@stratasys.com; Telephone: +49 (0)69 420 9943 0, Fax: +49 (0)69 420 9943 33, www.stratasys.com.
For more information please contact:
Lisa Henshaw
Fourth Day PR
+44 (0)20 7403 4411
lisa@fourthday.co.uk