Company unveils the market's lowest-priced professional-grade 3D-printing system
Frankfurt, 8th May 2012 - There's Mojo in the making at Stratasys (Nasdaq: SSYS) today, as the company announced its latest effort: the Mojo 3D Printer, which comes in a complete system called a 3D Print Pack. The Mojo 3D Print Pack is the market's lowest-priced professional-grade complete 3D printing system.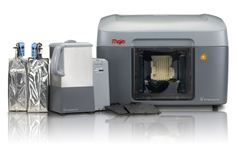 Stratasys Mojo
In this keynote video, Stratasys Global Marketing VP Jon Cobb introduced Mojo at the company's international reseller meeting to an enthused audience.
Priced at $9,900 (approx £6,120; €7,580), the Mojo 3D Print Pack is more than just the printer. The package contains everything needed to produce models (including material and a support-removal system). Like all 3D printers from Stratasys, Mojo is a genuine, patented Fused Deposition Modeling (FDM®) system.
New Modelling Technology Ensures Reliability
To produce a model, Mojo employs an innovative variation on traditional FDM material extrusion. The ABS material spool and the print head are integrated to a single package, called the QuickPack print engine. To ensure optimal reliability, a fresh print head is part of each material change. Material loading is similar to snapping in an inkjet cartridge on a paper printer.
Industry's Easiest Operation in a Compact 3D Printer
A desktop 3D printer, Mojo measures only 25 inches wide and 21 inches deep. It measures 18 inches in height (64 x 53 x 46 cm). As with a paper printer, no training is needed to get it set up and running, and settings are selected at the host computer, not the printer itself. Modeling operations are easy with Mojo's preprocessing software, Print Wizard, which helps users efficiently manage workflow. Support material removal is also a simple process with the included WaveWash55. It is a self-contained, hands-free cleaning system, and it requires no plumbing.
Fine Feature Detail
Delivering fine feature detail, Mojo has a layer resolution previously available only in the Dimension Elite and the Fortus Production 3D Printer line.
Professional Third-Party Evaluation
After evaluating an early beta-test unit, Todd Grimm, president of T. A. Grimm & Associates, noted: "Stratasys, who arguably started the revolution in 3D printing, is poised to shake up the market again with a complete professional system that breaks the $10,000 mark. With its new [3D printer], Stratasys is in a league of its own. It's counter-intuitive to get a low-price product with high quality like this."
"The name Mojo implies magic, which is how some describe 3D printing upon first witnessing it," says Stratasys VP of Global Marketing Jon Cobb. "You can buy a less expensive 3D printer, but for the serious designer or engineer, Mojo is the lowest-priced product that offers professional-quality output, comes as a complete package system, and uses industrial-grade thermoplastic material. I expect this will be of interest not just to engineers and educators, but entrepreneurs and independent designers as well."
Multimedia content and resources on the Mojo 3D Printer and 3D printing include:
For more information on Stratasys 3D printers please visit http://www.stratasys.com/
Stratasys Inc., Minneapolis, is a maker of additive manufacturing machines for prototyping and producing plastic parts. The company markets under the brands uPrint and Dimension 3D Printers and Fortus Production 3D Printers. The company also operates RedEye On Demand, a digital-manufacturing service for prototypes and production parts. Stratasys manufactures 3D printers for Hewlett Packard, which it sells under the brand Designjet3D. In 2011 Stratasys acquired 3D printer maker Solidscape Inc. According to Wohlers Report 2011, Stratasys had a 41-percent market share in 2010, and has been the unit market leader for the ninth consecutive year. Stratasys patented and owns the Fused Deposition Modeling (FDM®) process. The process creates functional prototypes and manufactured goods directly from any 3D CAD program, using high-performance industrial thermoplastics. The company holds more than 285 granted or pending additive manufacturing patents globally. Stratasys products are used in the aerospace, defense, automotive, medical, business and industrial equipment, education, architecture, and consumer-product industries. Online at: http://www.stratasys.com/
# # #
FDM, WaveWash and Stratasys are registered trademarks of Stratasys Inc.
Fused Deposition Modeling, FDM Technology Mojo, Print Pack and QuickPack are trademarks of Stratasys Inc.
Attention Editors: If you wish to publish reader-contact information, please use: europe@stratasys.com; Telephone: +49 (0)69 420 9943 0, Fax: +49 (0)69 420 9943 33, http://www.stratasys.com/.
Cautionary Statement Regarding Forward-Looking Statements
All statements herein that are not historical facts or that include such words as "expects," "anticipates," "projects," "estimates," "vision," "could," "potential," "plan", "intends", "desires", "assume" or "believes" or similar words constitute forward-looking statements covered by the safe harbor protection of the Private Securities Litigation Reform Act of 1995. Except for the historical information herein, the matters discussed in this news release are forward-looking statements that involve risks and uncertainties. These include statements regarding the expected timing and ultimate closing of the merger with Objet, as well as the financial and operating results of the combined company after, and the anticipated benefits of, the merger; the size of the 3D printing market; our objectives for the marketing and sale of our Dimension® and uPrint® 3D Printers; our support removal systems; and our Fortus® 3D Production Systems, particularly for use in direct digital manufacturing (DDM); the demand for our proprietary consumables; the expansion of our paid parts service; and our beliefs with respect to the growth in the demand for our products. Actual results may differ from those expressed or implied in our forward-looking statements. Such forward-looking statements involve and are subject to certain risks and uncertainties, which may cause our actual results to differ materially from those discussed in a forward-looking statement. Risks and uncertainties that may affect our business include our ability to penetrate the 3D printing market; the success of our distribution agreement with HP; our ability to achieve the growth rates experienced in preceding quarters; our ability to introduce, produce and market consumable materials, and the market acceptance of these materials; the impact of competitive products and pricing; our timely development of new products and materials and market acceptance of those products and materials; the success of our recent R&D initiative to expand the DDM capabilities of our core FDM technology; the success of our RedEye On Demand™ and other paid parts services; our ability to obtain the necessary approvals, including the affirmative vote of the Stratasys shareholders, and to satisfy the necessary closing conditions in order to successfully close the merger; our ability to successfully integrate and market the combined company's products; the combined company's ability to achieve the expected revenue targets, the combined company's ability to attract and retain management; and the combined company's ability to protect and defend intellectual property. These statements represent beliefs and expectations only as of the date they were made. We may elect to update forward-looking statements, but we expressly disclaim any obligation to do so, even if our beliefs and expectations change. In addition to the statements described above, such forward-looking statements are subject to the risks and uncertainties described more fully in our reports filed or to be filed with the Securities and Exchange Commission, including our annual reports on Form 10-K and quarterly reports on Form 10-Q.
Important Information for Investors and Shareholders
In connection with the combination of Objet and Stratasys pursuant to an Agreement and Plan of Merger (the "Merger"), Objet will file with the Securities and Exchange Commission (the "SEC") a registration statement on Form F-4, which will include a proxy statement/prospectus of Stratasys and a prospectus of Objet, as well as other relevant materials in connection with the proposed transaction. Stratasys will concurrently file the same proxy statement/prospectus with the SEC and will mail it to Stratasys shareholders for purposes of soliciting proxies for voting in favor of approving the Merger at a special meeting of Stratasys stockholders called for the purpose of approving the Merger Agreement and the Merger. INVESTORS AND SHAREHOLDERS ARE URGED TO READ THE PROXY STATEMENT/PROSPECTUS AND OTHER RELEVANT MATERIALS WHEN THEY BECOME AVAILABLE BECAUSE THESE MATERIALS WILL CONTAIN IMPORTANT INFORMATION ABOUT STRATASYS, OBJET AND THE PROPOSED TRANSACTION. The proxy statement/prospectus and other relevant materials (when they become available) and any other related documents filed with the SEC may be obtained free of charge on the SEC's website at www.sec.gov or via the Stratasys website at www.stratasys.com. Shareholders may also obtain a copy of the SEC filings free of charge upon written request to Stratasys, Attention: Shane Glenn, Director of Investor Relations, 7665 Commerce Way, Eden Prairie, Minnesota 55344.
Stratasys' executive officers and directors may be deemed to be participants in the solicitation of proxies from the shareholders of Stratasys in connection with the Merger. Information about Stratasys' executive officers and directors and their ownership of Stratasys common stock will be set forth in Stratasys' amended Annual Report on Form 10-K for the year ended December 31, 2011, which will be filed with the SEC.
This communication does not constitute an offer to sell or the solicitation of an offer to buy any securities, nor shall there be any sale of securities in any jurisdiction in which such offer, solicitation or sale would be unlawful prior to registration or qualification under the securities laws of any such jurisdiction.
For more information please contact:
Lisa Henshaw or Hannah Devoy
Fourth Day PR
+44 (0)20 7403 4411
lisa@fourthday.co.uk; hannah@fourthday.co.uk